Swansea v Cardiff: Wales set for biggest Premier League game, says David Jones
Swansea v Cardiff is always intense, says David Jones, but Saturday's game means more than usual.
Last Updated: 12/02/14 6:32pm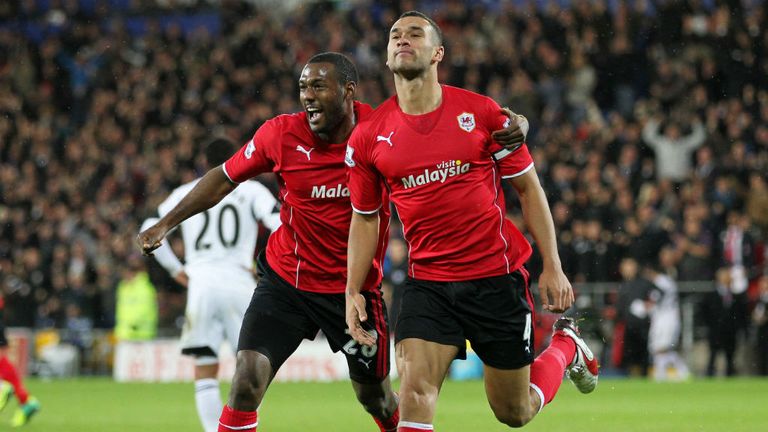 When Swansea and Cardiff meet for only the second time in the top division of English football there will be so much more than the usual quarrel to resolve. Both proud clubs are fighting for their futures.
Cardiff, the Premier League newcomers, have been catapulted from crisis to crisis off the pitch but they've been thrilled by the ride and they want more.
Swansea, who for three seasons have strolled amongst the elite with style and grace, have been hit hard by the demands of their success; a European adventure which has tested their resources to the limit and a slump in domestic form which this week cost Michael Laudrup his job.
It seems football fans were outraged by Laudrup's exit from the Liberty stadium: all those apart from the Swansea fans themselves.
They knew it was never a comfortable marriage. There had been too many tales of player unrest, of dressing room cliques and quarrels that never end well. They had seen performances decline in front of their eyes and they knew change was coming.
There had been notable highs along the way, such as the League Cup success, but the slip in standards was troubling chairman Huw Jenkins long before he made the decision to sack a manager for the first time in almost 10 years.
Enemy
You will do well to meet a calmer, more thoughtful and reflective chairman than Jenkins in any league; so steeped in his club and it's traditions, so inherently linked with his club's legendary rise and for that he has earned almost total trust from Swansea fans.
They will feel that even in the hands of a managerial novice like Garry Monk, they are better placed to take on the pressures and demands of a relegation scrap, which just happens to start against the enemy.
To make matters worse the Bluebirds are flush with confidence after coming from behind to beat Norwich last Saturday to record their first league win under Ole Gunnar Solskjaer.
Kenwyne Jones and Wilfried Zaha have added a more potent attacking thrust to Solskjaer's team, while the manager has already shown he has the guile to affect games from the sidelines just as he once did as a player.
It was a win Cardiff desperately needed after four straight defeats had threatened to leave them cast adrift, but now they know a victory on Saturday would leave them with an identical record as their neighbours.
Should they lose, the gap will open up to six points again. Both clubs could survive and prosper; both could fall from grace. Wales has never seen a more important Premier League game.