Premier League: Sacked Swansea boss Michael Laudrup seeks legal advice
Former Swansea manager Michael Laudrup has confirmed he will take legal advice after being sacked by the club.
Last Updated: 07/02/14 7:37am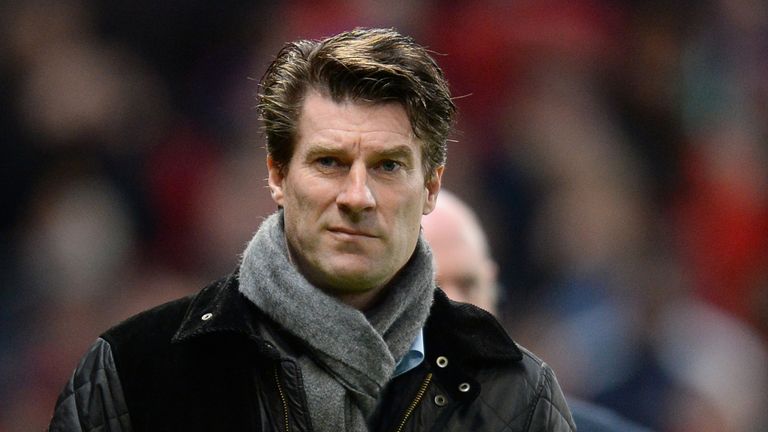 The Dane parted company with City on Tuesday night in the wake of a disappointing run of form that saw the club lose four of their last five Premier League matches, to leave them just two points above the relegation zone.
Despite a string of disappointing results, Laudrup's departure came as something of a surprise, with the club still involved in the FA Cup and Europa League.
Laudrup has now confirmed through a statement released by the League Manager's Association (LMA) that he may take the matter further.
"I am deeply disappointed to have been dismissed as manager of Swansea City," he said in the statement.
"In particular, the manner in which it happened and the actions the club has taken since notifying me in the briefest of letters which gave no reasons why such hasty and final action was deemed necessary.
"I am, of course, taking legal advice and the LMA have already written to the club asking for a proper explanation as to why I was summarily dismissed.
"Until we receive the response I am unable to say any more about the termination but I do want to take this early opportunity to thank the Swansea City fans for their continued support and say it has been an honour to manage this great football club.
"I leave the club proud of our collective achievements over the past 20 months and I believe we have continued the club's progression in the manner of my predecessors, including Roberto Martinez and Brendan Rodgers.
"The club has informed me that I cannot visit the training ground to say my farewells to the players so I do that now through this statement.
"The players have been fantastic and their contribution under the very professional guidance of my coaching staff has been absolutely fundamental to the club's recent successes.
"Whilst league results have been disappointing of late, we are still 12th in the table and it is there for all to see the fine margins in the league this season in terms of points that separate 11 clubs.
"Although we have been unfortunate with injuries, I believe our league form would have improved and that we would have benefited from the forthcoming Europa League and FA Cup matches.
"I wish the club the very best for the future and for the rest of the season in the Barclays Premier League, Europa League and The FA Cup."
Swansea begin the post-Laudrup era when they face south Wales rivals Cardiff on Saturday. Coverage begins on Sky Sports 1 HD at 5pm.