Swansea head coach Garry Monk calls for united front against Cardiff
Swansea City head coach Garry Monk insists the side must show a united front when they face Cardiff on Saturday.
Last Updated: 08/02/14 12:14pm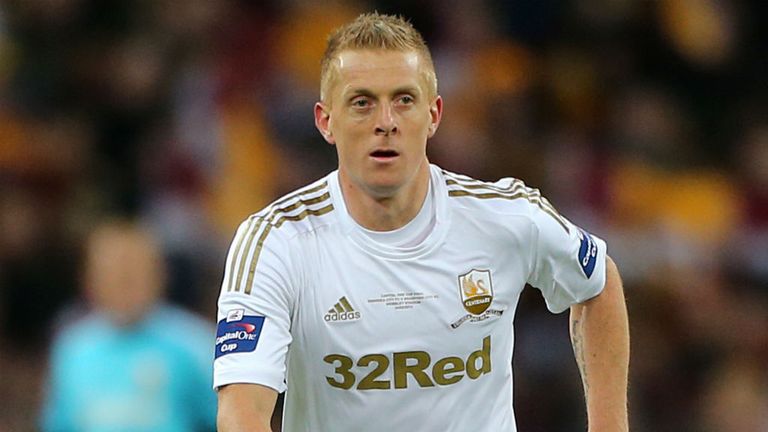 Monk is preparing for his first game in charge having been handed the reins in the wake of the sacking of Michael Laudrup on Tuesday.
However, the Swans have only one win in 10 league games under their belt and lie just two points above the relegation zone after their defeat by West Ham last weekend.
The 34-year-old was involved in a training-ground row with defender Chico Flores, and there have been reports of a split between the club's British and Spanish players, as well as concerns over training methods.
On the back of their poor run and in light of the recent player divisions in the club Monk knows there is no better time for the squad to pull together as
Cardiff seek to create history by becoming the first side to do the league double in this fixture.
"You have seen my thoughts on the derby before. It's massive," Monk said.
"The circumstances make it even bigger but we are focused on the football now. We lost the first game at their place and they will want to do us at our place. These are the sorts of games you want to play in and be a part of.
"I can deal with whatever pressure is put on me. I know the boys well and they know me.
"We have to keep the city and the fans and everyone at the club together. If we do that, it's all anyone cares about. We will put a bit of the Swansea way back into things.
"I will do anything for the club. It's my club. I've felt like that since I came here. I will do any job here.
"It doesn't come much harder than having a derby first. I don't want to talk about or think about relegation. We are in a good position and we need to push on. That's all we've said this week. All I care about it Saturday, I can't think any differently."
Monk, who is currently working towards his UEFA 'A' Licence, has long been viewed by the Liberty Stadium hierarchy as a future coach, but he did not expect to be handed his first major assignment at this stage.
"My view is, it's been a really busy period. I've not had much sleep but I'm trying to get the team ready for a really big game," Monk said.
"I had no inkling of this coming about. I was shocked to be offered the job. I have chatted to the chairman and the directors about coaching and management and they told me to always be ready.
"I always look at games and tactics and think from a coaching point of view.
"It's good for me to be in with a chance to do what I need to do. We have to put up a performance that we can all be proud of.
"I will get players to play football. On the training field and on the pitch.
"This week I have done what I think is right. I have used my experience from the best teams I've played in here. There are tweaks here and there but that's me. It could be different from the last manager or the next manager."
Watch the Saturday Night Football tussle between Swansea v Cardiff live from 5pm on Sky Sports 1.