Premier League: Ashley Willliams says Swansea's derby win was for Michael Laudrup
Ashley Williams has dedicated Swansea's 3-0 derby win over Cardiff on Saturday night to former manager Michael Laudrup.
Last Updated: 10/02/14 7:34am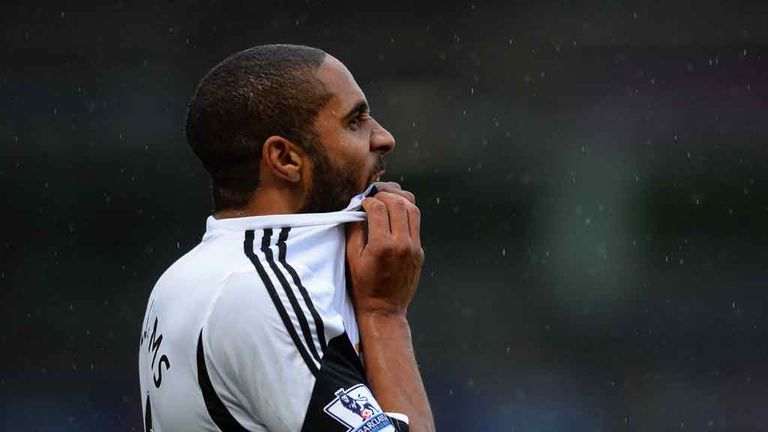 The Dane was sacked in midweek, with veteran defender Garry Monk promoted to head coach and the Swans responded by defeating their local rivals 3-0 at the Liberty Stadium, thanks to goals from Wayne Routledge, Nathan Dyer and Wilfried Bony.
Swansea chairman Huw Jenkins used his programme notes to claim the dismissal of Laudrup, who has indicated he will take legal action, was down to a slow erosion of the club's principles.
However, Wales defender Williams believes the players also have to take responsibility for the Dane's exit, and described the win over the Bluebirds as a thank you to their former boss.
"We feel 100 per cent responsible," said Williams. "You might look at the manager or look at his staff but at the end of the day, you are on the pitch.
"There is a bit of a thank you in this performance - that is how I feel. Hopefully he was watching.
"It was not that we didn't perform for him and we performed for Monks - it is just that he did this as well.
"It is the same team he had and the players he brought in. This is for everyone involved."
The 29-year-old also revealed how Monk had made his players sit and watch a documentary - BBC Wales' 'Swansea City: The Fall and Rise' - to remind them of the club's history and their climb from the depths of League Two to the heights of the Premier League.
"We had a bit of homework. It helped a bit," Williams said.
"I watched it and it helped me. I have been here for six years and I found out some stuff I didn't know, and it helps you respect the place a bit more.
"It's important. Garry knows the club - he is someone who has been involved for so long and, for myself and Leon (Britton), we have built it up.
"We feel like we have built it to a level and we do not want to see it go so quickly. It is our fault. If we pulled our socks up, we could get ourselves out of it."
When Routledge scored the opener against Cardiff shortly after half-time, Williams sprinted over to the touchline to embrace Monk, who for so long has been his colleague at the heart of the Swansea defence.
Monk joked he was concerned for his safety as Williams headed in his direction,
but was full of praise for his skipper's attitude.
"What a top guy, what a captain as well," Monk said. "I played with him so many times. I know what it means to him. This club means a lot to him. It means a lot to a lot of those players in there.
"I think the newer boys, that will show them as well. They believe in the club.
"Ash has got standards. He's a fighter. At times, I have had to try and tell him that he just has to worry about himself because sometimes when he gets too het up, it affects his performance.
"He needs to worry about himself. You could see how much it meant to him and everyone else. It was amazing, brilliant."