Premier League: Swansea's Garry Monk bemoans Crystal Palace penalty
Garry Monk bemoaned a late penalty award which saw Swansea draw 1-1 at home to Crystal Palace on Sunday.
Last Updated: 02/03/14 10:20pm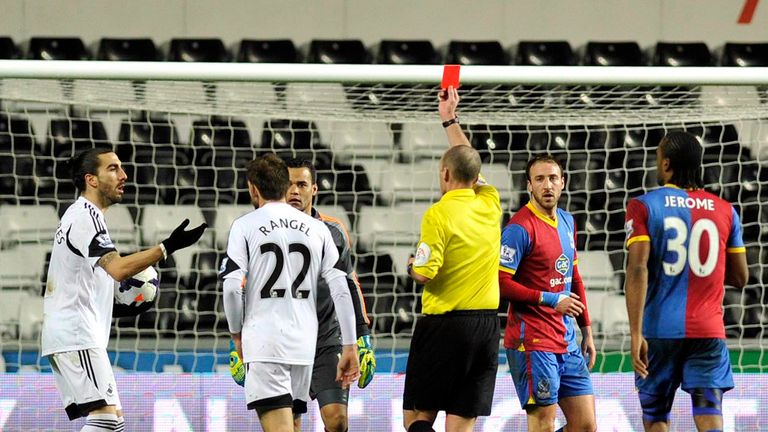 Flores received his marching orders for bringing down Murray, who scored the subsequent spot-kick to earn a share of the spoils for Palace on Sunday.
But Monk felt the offence was outside the box and referee Mike Dean was wrong to award the spot-kick.
He told Sky Sports: "Clearly outside the area. It's blatant to see - I've seen it back on TV and the contact's outside.
"The referee decided to make a decision from 60 to 70 yards away. I looked straight at him as well so he never conferred with his linesman on that side.
Quite bizarre
"The linesman wasn't flagging for anything, and he (the referee) has made a bad decision. He's obviously gone on what on he thought was instinct but how can you see from 60-70 yards? I find that quite bizarre.
"Okay, maybe it was the last man in terms of that (the red card), so I'm not necessarily grumbling about that, but the penalty itself was clearly outside the area."
Monk was very happy with his side's effort following a 3-1 Europa League defeat at Napoli on Thursday.
"I knew it was going to be tough for the boys second half, with the energy levels," added the Swans boss. "There was the early substitutions as well where the boys were fatiguing. I knew that was going to come and second half it was going to be hard for us.
"But I thought, after the sending-off as well, we dug in real deep and that's all you can ask from the boys.
"Okay, we didn't pass the ball as well as we could have second half but I think that was more down to us in terms of probably fatigue levels, because of the weeks that we've just had.
"But next best thing is if you can't win a game, make sure you don't lose it and they did that today."