Transfer news: Garry Monk wants Ashley Williams to extend his Swansea deal
Garry Monk says Swansea should do 'everything they can' to keep Ashley Williams at the club.
Last Updated: 14/04/14 11:32am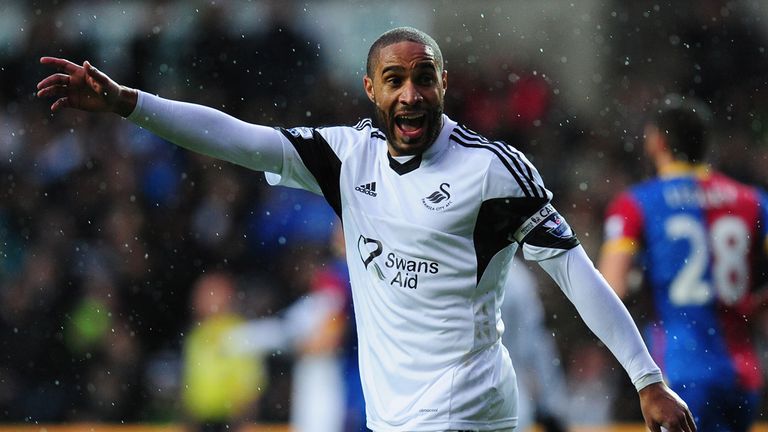 The 29-year-old Wales international has just over 12 months left on his current deal at the Liberty Stadium, and speculation is mounting that he could be set for a summer switch.
Arsenal were strongly linked with Williams last season and have reportedly maintained their interest.
But, whilst head coach Monk admits there is little he can do personally, due to the fact he does not know if he will be staying on beyond the summer, he maintains that Swansea need to keep Williams.
"It's not a situation I can try to resolve until I know whether I am doing this job (next season)," Monk admitted.
"But for me, Ash should finish his career here, and the club should do all they can to make him a priority.
"Whoever the manager is, Ash should finish his career here because he is an integral part of what this club stands for.
"The likes of him and Leon (Britton), people like that, are an integral part of Swansea City.
"They are what the club has been built on and they are the image of this club.
"For me they are some of the most important players this club have ever had, and we have to make sure they are here pushing their values on to the other players, and all the new players who come in, for years to come."
Fan
Monk is a huge fan of Williams, who took over from him as captain.
"Ash is the captain, but that doesn't mean you have to continuously affect everyone because you can't do that," he said.
"You have to be conscious of what you are doing, that's the first thing. Then, if you can keep a calm head, you can affect others after that.
"Sometimes Ash's head can drop a little or his body language can change. That's because he wants to do well, he wants the team to do well and he wants the other players to do well.
"But I think that can affect his game sometimes, and he knows it too. This is nothing he doesn't know, but I am trying to get him to remember it constantly.
"He is a better player, he gives out better information and he is a better captain when he is in the right zone, the right frame of mind.
"Ash has a good relationship with me, and more important than that is his affection for the club. He is doing it for the club and for himself.
"I think when you add all those things up, you have the reason why you are seeing so many immense performances from him."