Transfer news: Swansea's Ben Davies flattered by transfer talk
Swansea City star Ben Davies admits he is flattered at being linked with the likes of Atletico Madrid.
Last Updated: 17/04/14 11:33am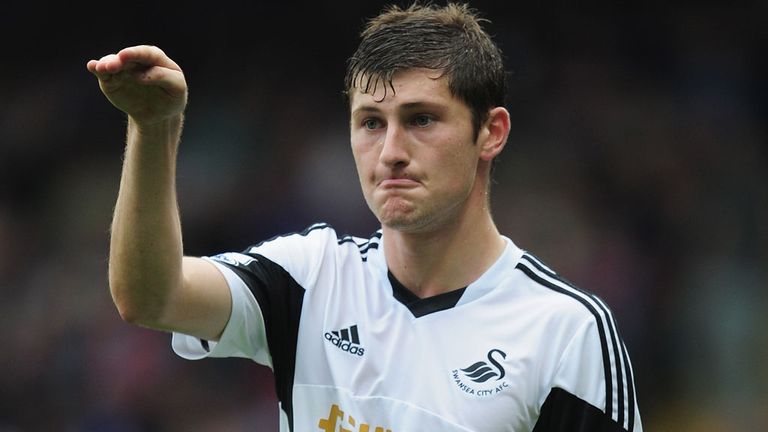 The 20-year-old left-back has emerged as one of the best young defenders in the Premier League, since making his breakthrough at the start of the 2012 season.
Davies only got his chance because of a long-term injury to Neil Taylor, but he has taken his opportunity with both hands and has not been out of the Swansea side since.
Now a full Wales international too, Davies is being linked with the likes of Liverpool, Arsenal and Manchester United - but it was the recent stories suggesting Spanish giants Atletico Madrid were keeping tabs on him, that really got people talking.
"The first I knew about Atletico was when a pal texted me the morning the story appeared," he told the Daily Mail.
"My phone beeped and there was this message saying, "Have you seen this? Atletico Madrid?!" I went online to see what it was all about. It is nice to hear something like that, because it clearly means you must be doing something right.
"It's got to be a boost for your confidence but it's not going to turn my head. I don't need something like that to make me concentrate on what's in front of me or suddenly up my game. I'm going to do that anyway, for myself and my club.
"I am ambitious about playing at the highest level I can but I tend to think that if you put performances in to the best of your ability, things will take care of themselves.
"For now, all I'm thinking about is staying up. My mum wants to organise a party for my 21st but that can wait. Once we're safe, maybe, but not before. I've told her to hang on for that, then we can have a proper party."
Davies admits that he is a huge fan of Leighton Baines, as he feels they have similar styles.
"He's probably not the quickest, like me, and probably not the strongest player in the world but the runs forward he makes and the chances he makes make him far and above the best left back in the league," he said.