Garry Monk says Swansea are better after flirting with Premier League relegation
Garry Monk says Swansea have had a scare in the Premier League this season but have emerged as better players
Last Updated: 02/05/14 2:11pm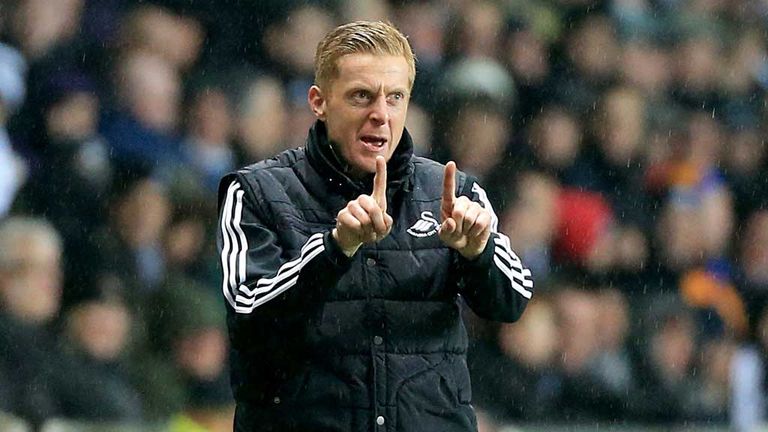 Recent victories over Newcastle and Aston Villa have ensured that Swansea will remain in the Premier League next year after a season spent for the most part in the bottom half of the table.
And Monk is certain this season's steep learning curve will benefit the club and his players in the long-term.
"It is a season we have learnt loads from," he said.
"You need to go through tough times to improve as players and as a club, to have that scare that we have had over recent months.
"It is important that we learn from it. A lot of the players had never experienced relegation troubles and the pressure that comes with it. It is a totally different pressure to playing where we have been in recent years.
"That will stand them and the club in really good stead. I think the club has had a scare this season, there is no two ways about it. It is something we've not had for 10 years."
Monk, who took charge of the side following Michael Laudrup's sacking in February, insists his players will not be letting up in their two remaining games despite having nothing more at stake this season.
"You can just see the cloud lifted, not just with the players and the staff, but around the city. I think everyone has got smiles on their faces," he said.
"We realise there are still two games to go, that there is a job to do, and we want to break that 40-point barrier.
"For the standards that we've set, we want better. The way we have progressed over the last 10 years, the expectation level is much higher than what we are right now.
"If we can break that 40-point barrier now - the so-called special total - that's the aim.
"It's been a very long season. Ultimately, I don't think disappointing is the right term, but football changes so quickly.
"The two results we've just had changes the whole complexion, but if we can finish in the 40 points bracket then it would be hard to say it has been disappointing.
"All I care about is that the team does as well as possible and you get the maximum out of every single player."
The Swansea manager also revealed he is looking forward to locking horns with Southampton this weekend, the club where he turned professional back in 1997.
"I've got a lot of friends left in Southampton from my time there," Monk said.
"That is where I learnt my trade alongside some fantastic players. It's a brilliant club, one that I have a lot of time for."