Premier League: Swansea boss Garry Monk unhappy with defence
Swansea boss Garry Monk was to left to rue "schoolboy defending" after Rickie Lambert gave Southampton a 1-0 win.
Last Updated: 03/05/14 6:57pm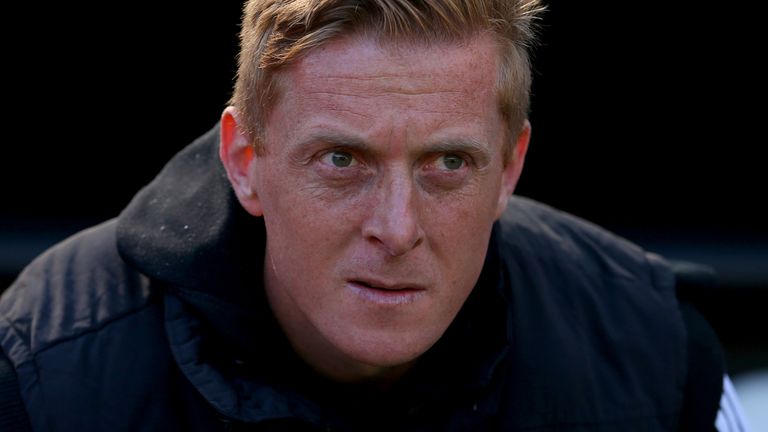 Substitute Lambert struck in the third minute of stoppage time after Swans skipper Ashley Williams and goalkeeper Michel Vorm got themselves in a tangle.
Williams' attempted clearance ballooned high in the air, dipping behind a retreating Vorm, and as all three players scrambled for the ball, it appeared to go in off Lambert's back.
"The last home game of the season and we lose the game in the last minute. It's always hard to take," Monk said.
"We suffered first half, possession-wise, playing against a very good team in Southampton. They worked their possession well.
"But we had three really clear-cut chances we should have scored from. I can't actually remember Michel Vorm making a save the whole game.
"In terms of possession, we suffered, but I think second half we got to grips with it a little bit better and we had the best chances. How we have come away from that game with nothing is hard to take.
"But I've said that a few times this season. It has pretty much been the story of our season. There was some very good defending for 90 minutes, then we let ourselves down with some schoolboy defending.
"We should be scoring from those clear-cut chances and we left ourselves open for the sucker punch, which we've done a few times this season."
It looked as though the teams would play out an uninspiring 0-0 draw in the Liberty Stadium sunshine after 90 minutes that had end of season stamped all over them.
With neither Swansea nor Southampton troubled by matters at the top or bottom of the table, it was a contest that drifted along with no obvious urgency, and Lambert's goal provided an ending the match scarcely deserved.
Despite the defeat, though, it is likely that Monk will be upgraded as Michael Laudrup's permanent managerial successor during the next week.
Monk has achieved the primary aim of masterminding Swansea's top-flight status for another season and after the club's directors met on Friday, it would appear they have been suitably impressed to let him take the Swans forward.
"If you look at the effort and commitment from the players, you can't fault them," Monk added.
"For 90 minutes, they defended the box extremely well, and that takes intensity and concentration to be able to do that.
"But it was a poor goal. We got ourselves out of our shape. We lost concentration, got sucked out of position, left Lambert with too much space, and indecision from the recovery side cost us.
"We didn't deserve for it to go against us, but it has happened."