Swansea boss Garry Monk says he is driven by those who doubt him
Garry Monk says he will continue to be driven by those who doubt him as he plans for success at Swansea.
Last Updated: 05/05/14 7:58am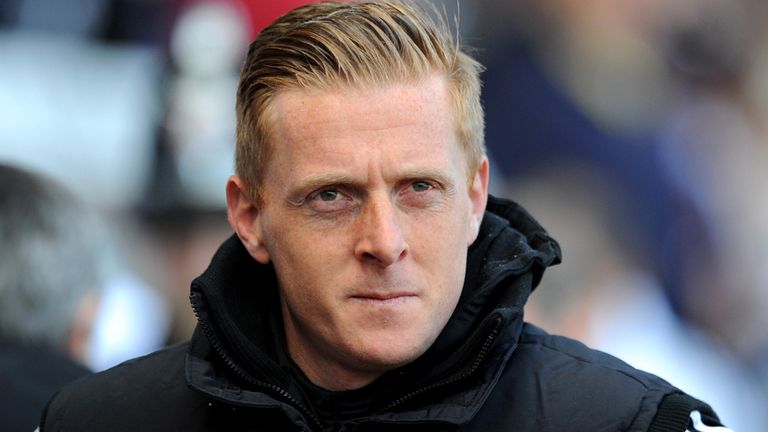 The 35-year-old former club captain has been in temporary charge of the Swans since early February following the sacking of Michael Laudrup and has led them to Premier League safety.
Following talks with club chairman Huw Jenkins this week, he now looks set to be installed permanently in the role.
Monk anticipates there will be those who question the decision, given his relative lack of experience, but he says this does not concern him.
"The best bit for me is that you are always going to get doubted, and you need that. It has always driven me," he said.
"As a player, you get doubted. When they offered me the job doing this side of it, people doubted I could get us safe, and we proved them wrong.
"Next season, they will say he hasn't got any contacts, he can't get players, who wants to come and play for Garry Monk?
"It's another chance to prove them wrong, which is something I have lived by in my whole career. Who says I won't do that as a manager?"
Despite his relationship with the club, Monk understands that the club need to go about the appointment of their next permanent manager in a professional manner.
"To be honest, (the club) have done it right," Monk added.
"They have to go through that process of a chat, a talk. As much as they know I have been here for 10 years and I am not going to do anything to hurt the club, you still have to go through that process.
"They want to know what you are thinking going forward, and quite rightly so.
"The only thing I have got to prove is that we can win games, and win more games.
"What will be, will be. I can only do what I am doing, and try to do it to the best of my ability."
Reflecting on tise season as a whole, Monk said: "It's strange isn't it, football?
"We've had Europe (the Europa League campaign), we've got 39 points and we are calling it a disappointing and a poor season. It makes you think, imagine if we have a good season.
"When we had 47 points (in 2012), everyone said it was an amazing season. Realistically, we should have had a point (against Southampton) and we would only have been a few points behind that total. It's fine margins, isn't it?
"On the whole, I think we've actually dealt with Europe and the season very, very well.
"In terms of it being our first experience of Europe, with all the travel and the teams we've played, and dealing with the league and a situation where a lot of players had never been in a relegation battle before, if you take all that into account we've actually done very well.
"But ultimately, it is disappointing because of the standards we've set as a club. It has been a difficult season."