Premier League: Swansea manager Garry Monk to take positives from season
Swansea manager Garry Monk is determined to concentrate on the positives from this season's campaign.
Last Updated: 19/05/14 4:12pm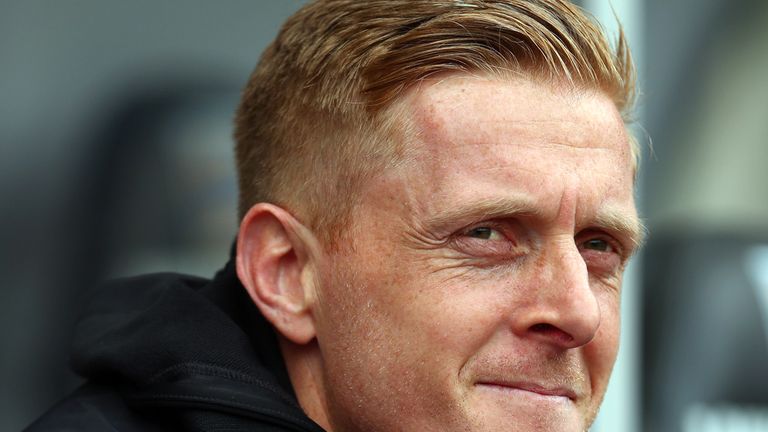 Monk was appointed interim manager in February after Michael Laudrup's departure and led a late push that ensured survival and a 12th-place finish for the Swans in a season where they also played in the Europa League.
"Football's a strange thing. You go back a few months and you would say last season was a poor season judging by the standards we've set," Monk told the Evening Post.
"Then you see we finished up only five points behind our best-ever total in the Premier League and four points behind last year (2012-13), both of which were classed as really good seasons.
"When you consider we had the Europa League and the change of manager and everything on top of that, it's hard not to consider it a decent season.
"But it's a season where we've learned a hell of a lot - everyone has learned a lot.
"Those people who have watched us for a number of years know it's a chance now for us to take stock of what we've done, to make sure we don't make the same mistakes and make sure we move forward properly."
Monk was named as permanent manager on May 7 and the 35-year-old is now looking forward to his first full season in charge.
He is currently working on his coaching badges over the summer and will be aiming to move Swansea up the Premier League table next season.
"I'm here to do this job properly, I said that from the start. Whatever it takes I will do," Monk added.
"But the flip side to that is that my family is the most important thing to me so without doubt I will make time for them and make sure they are looked after.
"I am so lucky that they understand how important it is that I do this job properly and they'll support whatever that takes."
Monk admitted recently that the Swans had not been good enough this term, with strikers Leroy Lita and David Ngog already released as the new boss looks to reshape his squad for the coming season.
"There will be planning and preparation to improve the squad, players will leave, all those things, the whole package has to be looked at," he added.
"But we've been doing that for a few weeks in terms of the training and pre-season planning, putting those things in place.
"Then it will be about targets, who we are looking to get in, the areas we need to strengthen, and areas we need to improve."