Saunders hopeful over duo
Dean Saunders is hopeful of adding Pascal Chimbonda and El-Hadji Diouf to his squad in the coming days.
Last Updated: 27/09/11 11:30pm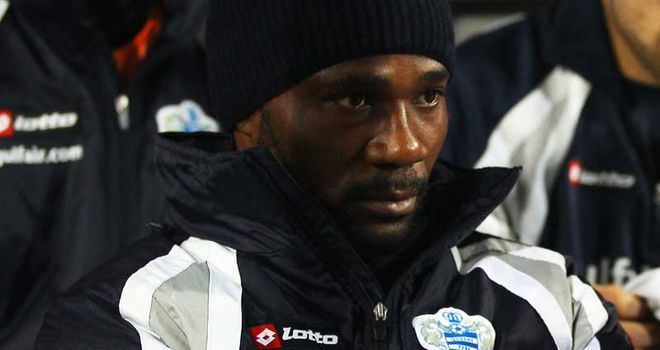 Dean Saunders is hopeful of adding Pascal Chimbonda and El-Hadji Diouf to his Doncaster squad in the coming days.
The former Wales striker saw his new charges pick up their fourth point from his second game in charge in Tuesday night's 1-1 draw with Hull City.
They were watched from the stands by former Wigan and Tottenham full-back Chimbonda, who is a free agent after being released by QPR, while Saunders has also held talks with Senegal international Diouf, a reported target of Wigan having been released by Blackburn earlier in the season.
"I spoke to him (Chimbonda) before the game and will speak to him afterwards," Saunders said after watching Simon Gillett cancel out Martyn Waghorn's opener.
"I haven't discussed the ins and outs but he's obviously interested or he wouldn't be here. To sign a player like him at this club would be brilliant. He's gone for millions and millions in his career and it would be brilliant.
"I will discuss with him what he wants to do. He looks fit and is a class player and if I could get him in he would make such a difference to the whole club."
On Diouf, Saunders added: "I'm hopeful it might happen. When it appeared on television yesterday I thought other clubs would have come out of the woodwork and it looks like that might have happened.
"I did speak to him. I want to get some players in. Players like that don't come around very often and if we do get them, they'll be short-term, probably benefiting us and them."
Regarding the draw, Saunders said: "It was a good point.
"Hull are a good team who will be hoping to get promoted, but you can't help thinking after the second half that we could have won the game. It was a terrific effort and we turned it around."
Pearson credit
City manager Nigel Pearson gave Doncaster credit after they battled back to draw.
"Route one Doncaster; not something you thought you'd hear anyone say before the start of the season," Pearson said.
"They're fighting for points and showed a lot of spirit.
"They bombarded us for a spell and we didn't track a run which cost us. But you have to give them some credit.
"They were second best in the first half and had to come up with an answer. They've had a difficult start to the season, need points, a new manager has come in and they've had a response.
The Tigers have scored seven goals this season - one goal on seven separate occasions - but Pearson defended his players.
"It's very easy to look at the negatives from any performance and people normally do," he added.
"Until we start scoring more goals people will talk about our lack of goals. We need to score more goals but I do think we're making very good progress.
"I will be critical of my players when I need to but I think at times we don't always get the credit we deserve."