Deal or no deal?
Carlisle defender Sean O'Hanlon discusses survival bids, free agency and playing for his future.
Last Updated: 27/05/13 11:38am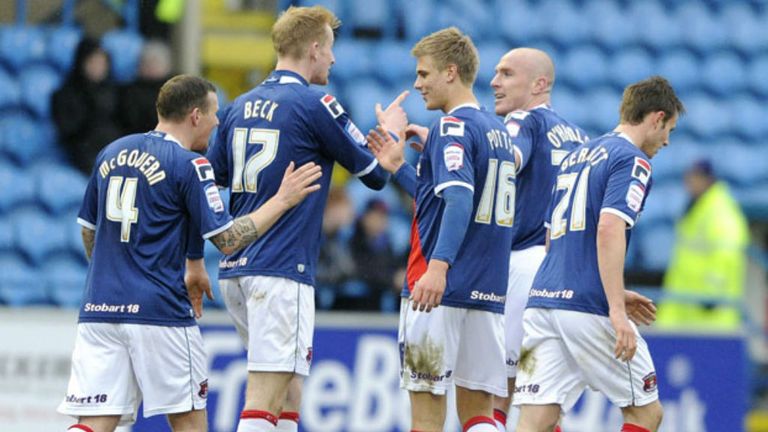 The 2012/13 campaign is about to enter the final straight, with promotion pushes and relegation battles now in full swing.
Here at Sky Sports, we continue to take you to the very heart of the Football League, with our Spotlight features intended to give you a greater insight into the clubs and players that keep us on the edge of our seats.
We are hoping to bring you the views and thoughts of a representative from each of the 72 teams over the course of the season, with those involved asked to give their take on the division they compete in, the club that pays their wages and those we should all be keeping an eye on.
Next in our hot seat is Carlisle's Sean O'Hanlon, with the Cumbrians defender taking time out to discuss survival bids, staying patient and ones to watch with Chris Burton.
You had a great win over Brentford at the weekend, that was just what you needed at this stage wasn't it?
It has just given us enough distance, a bit of breathing space on the teams below us. We have had a few draws and we need to turn those draws into wins. To beat Brentford, who have got a chance of automatic promotion, it was a good result.
You still can't afford to relax, but you are a bit more comfortable now aren't you?
I think so. It's nine points now. We don't want to go into the last couple of games needing to get a few more points to secure our safety, so it's best to do it now and then we can try and prepare for next season, so to speak.
You got yourself a goal as well, which was a nice little bonus wasn't it?
Yeah, definitely. Obviously all defenders like scoring goals. It was nice to finally get one. I have missed a few, I missed an open goal against Notts County the week before. I thought I wasn't going to get one, so it was nice to get it.
You only arrived in January, but do you get the sense that it has been a frustrating season for all of those at the club? They just haven't been able to get going have they?
I think so, yeah. Last season they just missed out on the play-offs, so the fans would have been expecting play-offs again this season but it just hasn't happened, for whatever reason. That's very frustrating for the fans and the players as well. I don't know why because there are some good players here.
Too many goals conceded would appear to be one of the issues - with the joint-worst record in the division. I take it that's why you were drafted in, to try and help plug the leaks?
To be successful in this league, and probably all leagues, if you keep the defence tight, you have got half a chance. Unfortunately this season we have leaked too many goals. That's been the problem. I came in in January to help try and deal with that problem.
You have got a few tough games coming up against sides pushing for play-off spots, but is it about getting to 50 points as quickly as possible for Carlisle now?
I think so, yeah. We have got nine games to go and with two wins we should be safe. We need to win two out of nine and that should be easy enough, but with so many teams fighting for stuff - fighting for promotion or against relegation - there are no easy games. We aren't going to get any free points so we still need to work hard. Saturday will be a tough one, but the sooner we get to 50 it takes away any nervous energy that might creep in.
On a personal level, are you enjoying it? You had to be patient didn't you after leaving Hibernian?
I was without a club for a few months. First of all I'm grateful to the manager for giving me a chance, and now I've got that chance I'm enjoying playing every Saturday again. League One is a difficult league, a competitive league, and it's good to be back.
It's getting tougher isn't it for those who fall into the free agent pool, with more players available every year?
I think the loan system doesn't really help. I think a lot of clubs now can loan a youngster from a Premier League team and don't have to pay any of the wage, so they are kind of getting a free player in there. Rather than signing someone on a contract, they can get someone in for free. Clubs are cutting back and there are a lot more players getting out of contract and struggling to get a club. I was basically stuck in Scotland. My fiancée was due to give birth, so timing-wise it wasn't great because I couldn't come down and trial at clubs. It all got sorted in the end, we had the baby in December and got the call in January from Carlisle.
You have only signed a short-term deal, that gives you added incentive to do well doesn't it?
Yeah, of course. I have only signed until the end of the season and I've seen how hard it is to get a club, so I don't want to be in that position again over the summer. I am trying my best to earn myself a contract. Hopefully that will be with Carlisle. If not, some of the teams I've played against I've done okay and it might be somewhere else. That's my personal aim now, to earn myself a longer contract.
You have seen plenty of the Football League from your time with Swindon and the MK Dons, what does it take to be successful at that level?
I think it's consistency, really. If you can keep clean sheets at one end and at the other end, if you can get a goalscorer, a striker who will score you 20 goals, I think that should guarantee you pretty much a play-off push. I suppose a bit of luck as well along the way.
Who has impressed you since you came into Carlisle? Any of the young lads?
There are a few good young lads. Mark Beck, who scored at the weekend as well, he's got all the physical attributes, he just needs to grow into his body a little bit and become a bit stronger. I think in a few years' time you are going to see the best of him, he's only going to get better. Dave Symington, the right winger, has got plenty of pace and I don't know if you saw his goal a few weeks back, his 35-yard free-kick, he's got a hell of a strike on him. There is a lot of talent, young talent, coming through and I'm sure the club are very proud of that.
Finally, are the next couple of months about setting things up for next season, both for the club and yourself?
I think so. We can't get near the play-offs so we need to secure our safety. The sooner we do that the better and I'm sure the club will start planning for next year as soon as we get to that 50-point mark. Hopefully they can then get a head-start by planning for next season and hopefully next season we will have a better year.