Moore impressed by new-look Stoke
Tranmere boss Ronnie Moore expects Stoke to pose a very different proposition under new manager Mark Hughes.
Last Updated: 24/09/13 7:34pm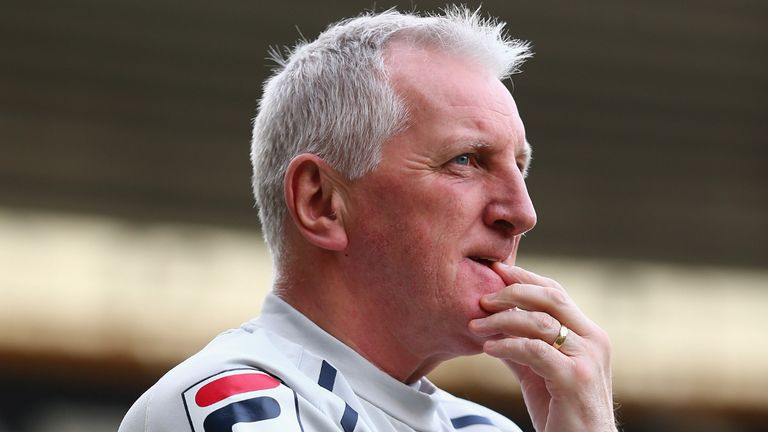 Tranmere boss Ronnie Moore expects Stoke to pose a very different proposition under new manager Mark Hughes.
The Premier League side cultivated a reputation for playing physical, long-ball football during Tony Pulis' seven years at the Britannia Stadium but have started to shed that image since Hughes came in over the summer.
Hughes, whose own playing career took him to European powerhouses Manchester United, Barcelona and Bayern Munich, has been lauded for stamping his own style on the Potters and Moore lent his voice to those impressed by the Welshman's start.
"Mark Hughes is trying to get them to play and to play out of the back," the Rovers boss said.
"They do go long at times but they're good passers into proper areas. It's going to be a tough game, no doubt about that, but it's a game we look forward to because we're not expected to win. But we have to make sure we play without any fear."
While Pulis' tactics were often dismissed as ugly and outdated, Stoke became incredibly difficult to break down and beat.
Moore wishes such qualities were more prevalent in a Tranmere team which has won just one Sky Bet League One game and conceded 19 times in eight fixtures this term.
"We're too nice and we need to be aggressive," he added.
"It's hard when you're not really an aggressive person. I'm not saying go out there and boot somebody and kick them in the air, I'm saying be aggressive by closing people down and getting in people's faces.
"These days they come through academies all nicey-nicey, you're really looking for a dog, somebody who is going to sit there in defensive midfield and do a job."
Rovers' start to the season comes in stark contrast to their form 12 months ago when they won nine of their first 12 games and did not taste defeat in the league until the end of October.
Moore admits he has an altogether different challenge to try to now lift his side from their early slump.
Alluding to how much easier his job was a year ago, he said: "You didn't have to do anything. You hardly spoke to the players, it was a matter of out you go and it was another win.
"Things do go for you when you're on that road. I'm not getting a violin out and a handkerchief out and crying about our luck. The only way you change your luck is through hard work."
The odds may be stacked against Tranmere but they have fond memories of this competition having reached the final in 2000.
That season, armed with long-throw specialist Dave Challinor, they claimed the scalps of Coventry and Middlesbrough - who were both then in the top flight - before losing 2-1 to Martin O'Neill's Leicester in the last League Cup final to be staged at the old Wembley.
And after seeing Bradford reach the same stage last season, lower league clubs like Rovers are beginning to dream of the significant income which comes with such deep runs.
"If we win the game anything can happen, but we've got a mountain to climb to get this done," conceded Moore.
"The money that comes in I'm allowed to use to bring players in so yes, that would be nice to bring in to strengthen the squad."