Down to the wire
Tranmere goalkeeper Owain Fon Williams discusses a testing campaign and international ambitions.
Last Updated: 25/04/14 5:19pm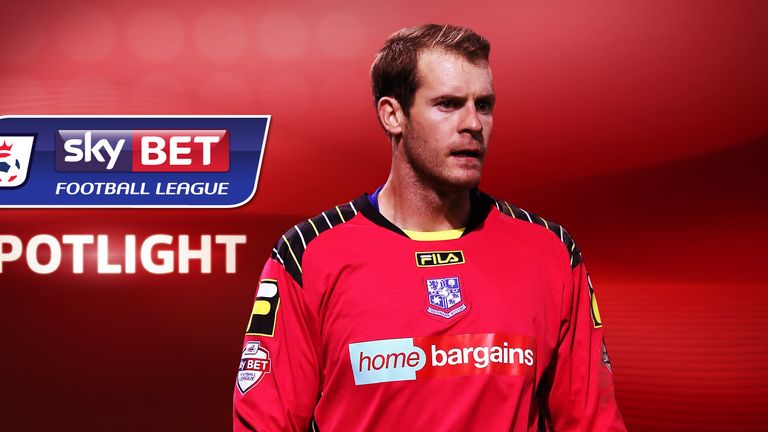 The 2013/14 campaign is now entering the final straight, with divisions beginning to take shape.
Here at Sky Sports, we will look to take you to the very heart of the Sky Bet Football League over the coming months, with our Spotlight features intended to give you a greater insight into the clubs and players that keep us on the edge of our seats.
We hope to bring you the views and thoughts of a representative from each of the 72 teams over the course of the season, with those involved asked to give their take on the division they compete in, the club that pays their wages and those we should all be keeping an eye on.
Tranmere's Owain Fon Williams is next into the hot-seat, with the Rovers goalkeeper taking time out to discuss a testing campaign at Prenton Park and international ambitions with Chris Burton.
The obvious question to start with is: with two games to go, how many points do you need to stay up?
It's a tough one. It's so tight down there and anything can happen. We got two wins on the trot - especially the win we had away at Colchester, and we thought we could be in the driving seat. But everyone else won, so nothing changed in the table. Anything can happen. If you lose, someone else might lose and it stays the same. It's difficult. It would be nice to get three points tomorrow and another three points in the last game of the season, but who knows. We just need to try and pick up as many points as we can.
Do you feel as though you may be running into Leyton Orient at a good time - they've lost their last two and are already assured of a play-off place?
They lost to Wolves. They are champions of the league, so by playing them it's a bit false because they are such a good team. But it will be tough, it will be very tough. They have been very consistent throughout the season and are a very good team. They have been there or thereabouts all season long, so it's not going to be easy to go down there and get something. But if we could get a win, a win down there might possibly be enough. If we get a win and results go our way, it might be enough. We're just hoping to get something.
Bradford on the final day could be huge couldn't it and with that being at home, will that help or hinder you - there could be a lot of nervous tension around?
Yeah, it can work both ways. Ideally, we'll get a win tomorrow and the teams around us will lose and we can go into that last game of the season safe. Football's not like that, and it hasn't been like that at all this season. Playing Bradford at home is possibly better than playing them away, we have got the fans on our side and they have obviously got to travel to us. Hopefully we can make it a really tough place for them to come. Bradford are safe, they won't have much to play for but pride. Obviously no-one wants to lose a football match, not at all, but it will be another cup final for us. We just have to take each game as it comes.
Would it be fair to say that you just want to see the back of this season now, stay up and regroup in the summer - it's been a testing year hasn't it in more ways than one?
Definitely. This season has been a really tough one. If we can get safe, we can put it to bed and then kick on from there. There have been a lot of distractions this year and it has been tough for us, to be fair.
You've come through that, though, haven't you as a group and John McMahon has done a good job and made himself a serious candidate to land the post permanently?
That's right. All of the lads are really behind everyone that's in charge here. They've done well. We've had some fantastic wins. We've got two massive games ahead now, but we've got everyone together. A few lads have been playing half-fit, players have been missing training and just playing on Saturday. That's been a big loss to us as well, the fact that we can't get players on the training ground and playing. But we've stuck in there, that's all we can do. No-one has let their head go down or lost faith, we've been very much together. Hopefully that can continue now for the last two games.
The club have taken a sensible approach haven't they, they haven't rushed anything and have turned to a man who knows the players and the club? That's what you needed.
Exactly. We don't get involved in any of that, but obviously John McMahon knew the club and the players. He has been here a few good years now and he knew what was ahead of him. It was a tough task, because it has been a tough place to be at times this season. He's been with the club now through the good and the bad, so he knew what the job was all about.
On a personal level, how do you think the season has gone - you've played a lot of football again?
It would have been great to be in the play-offs and doing things that way, but it wasn't to be. It's been another learning curve and another season under my belt of playing. It's been good in that way, from my personal point of view. I've enjoyed it and I've learnt quite a lot from this season as well.
And obviously still feel as though you are in the right place for you - you signed a two-year contract last summer?
Yeah, definitely. This is my third season now at this football club and I've enjoyed my time here. There are things that could have gone a little bit smoother this season, and then who knows what might have happened. There have been a lot of distractions and that hasn't helped and has played a part in where we are, fighting for survival.
You have international ambitions as well don't you? Still waiting on that full Wales debut and eager to get that sooner rather than later...
Definitely. Growing up, that's all I wanted to do - play for my country. I'm there or thereabouts. I'm in the squad and there is a game coming up on June 4th against Holland. Hopefully I can get in that squad and then, fingers crossed, who knows what might happen in that game. As long as I'm there, that's a great thing. Every time the team gets announced I'm the first to check if I'm in because it's a massive thing for me to be playing in a team like that.
It's a great set-up to be involved in at the moment isn't it, with some really world-class players?
It's an amazing squad. There are some unbelievable players and some players who are playing at the top of the game while they are still so young. It's good to see them doing so well. I really want to be involved in the squad and get my name included in the same place as these boys, because they really are class players.
The Euros are a very achievable target aren't they - you'll be watching the World Cup this summer thinking you could be involved at the next major tournament?
Definitely. It's still a young side with Wales, so another few seasons under their belt as well and they'll be kicking on even more. There is no reason why we can't if we all stay together and get everyone into the squad. If we can get Gareth Bale and Aaron Ramsey into the squad, they are huge for Wales. If we can get everyone fit and everyone improving in the squad, I'm sure Wales will have a fantastic chance.