Ronnie Moore won £3.93 on Tranmere bet that breached FA rules
Former Tranmere manager Ronnie Moore won £3.93 after he placed a bet on his club to win a League One game last year.
By Bryan Swanson, Chief News Reporter
Last Updated: 22/05/14 8:30pm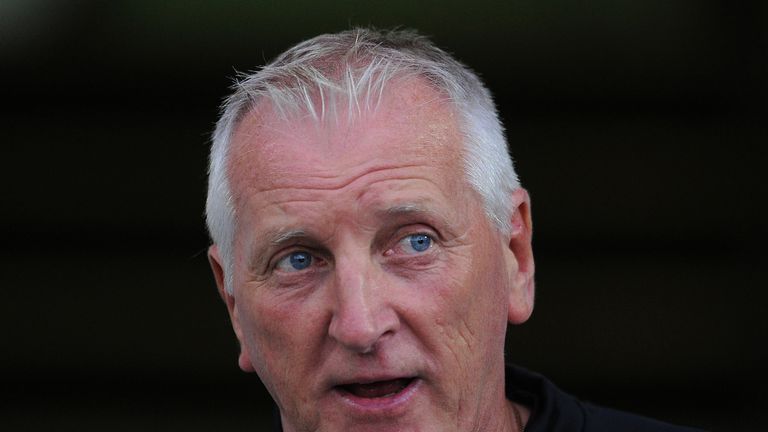 Moore says he placed the bet on behalf of his sister-in-law.
Moore received a suspended one-month ban from football, and a £2,000 fine, by the Football Association for breaching betting rules.
He pleaded guilty after 95 football bets breached FA Rule E8(b), which prohibits bets placed on the same competition as Tranmere, and attended a personal hearing at Wembley on Thursday.
Moore placed accumulator bets with family members on competitions including League One, the FA Cup and League Cup.
Of the 95 bets to break FA rules, 65 bets were a £10 stake or under and 10 bets were a £1 stake.
The average bets were £12 and only one bet involved Tranmere.
Moore won £3.93 after he placed a £1 double bet on Tranmere to beat Colchester United in League One and Manchester United to beat QPR in the Premier League on 23 February 2013.
Tranmere won 5-1 and Manchester United won 2-0.
"I'm embarrassed because as a manager of Tranmere Rovers Football Club, I should have known," Moore told Sky Sports News after his personal hearing.
"So I hold my hands up, there is no doubt about that. I should have known and I didn't know, but is that worth losing my job over?
"It's actually cost me my job and it's cost me £130,000 - and then I get fined here as well."
Sky Sports News has learned that 95 bets worth £1,179.43, and winnings of £943.56, broke FA rules over three seasons.
Moore said the last three months have been tough on him and his family.
"If you're the manager of a football club, you should know what is going on," he said.
"But it was an honest mistake. Has nobody out there ever made a mistake? I have made a mistake that has proved so crucial to my family.
"The last three months have been hell. I have been abused and accused of this, that and the other and that is wrong. It was a genuinely honest mistake made by myself and I am embarrassed about it."
Moore told the FA that he never received information relating to football that was not publicly available and he has never been approached to influence the progress of a match or the outcome of a game.
Moore was sacked by Tranmere in April after he admitted to multiple breaches of FA rules on betting.