Doncaster Rovers midfielder Dave Syers cannot wait for Championship season
Doncaster Rovers midfielder Dave Syers says he cannot wait for the forthcoming Championship season to start.
Last Updated: 19/06/13 1:22pm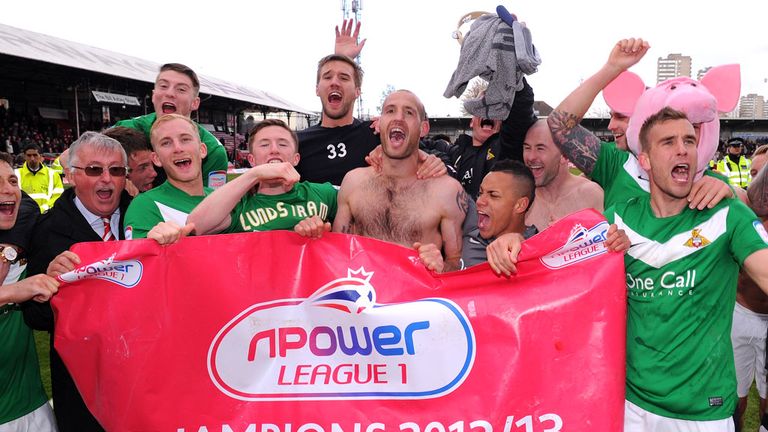 The 25-year old enjoyed a successful debut campaign at the Keepmoat Stadium, making 32 appearances after joining from Bradford City last summer as Rovers claimed the League One title.
Paul Dickov's men will host Blackpool on the opening day of the season and Syers was enthusiastic about kicking proceedings off.
"Coming into the Championship for the first time and being able to look at those fixtures, and look down the list and see the calibre of teams that are on this year's fixture list really does hit home," he told Sky Sports News.
"We're lucky we've got five Yorkshire teams in the Championship this year so there's going to be quite a few derby fixtures."
Syers also recognised the importance of an immediate return to England's second tier and he spoke about the benefits their new league status will bring.
"I think if you look at the likes of Sheffield United who just missed out on coming back up and the problems it's caused for the club year in, year out. They keep having to release players they've still got signed on big wages," he said
"From Doncaster's point of view, it's the luxury of the retained list we've been able to put out, it features 90% of the players who are out of contract which I think if we'd have ended up staying in League One, I don't think we'd have been able to keep as many players."
Former Oldham boss Paul Dickov replaced Brian Flynn in charge of Rovers shortly after sealing promotion and Syers says he is feeling positive about working with the new manager.
"He's come in since we've been away so I've not had any contact with him as of yet but looking at the reports coming out, it's exciting the things he's trying to do and I'm looking forward to getting back to pre-season training with him next week."
Dickov's side have been linked with a host of players, including Manchester United youngster Nick Powell, but Syers thinks the focus should be on the current squad for the time-being.
"The few names bandied around are exciting prospects and it just shows the leap we've made in coming straight back up and the calibre of players we want to sign.
"More importantly at the moment is getting those players on the retained list signed back up and agreeing new contracts.
"At the moment I think there's about seven or eight of us going back in for pre-season next week before they get signed on so I think that's the important thing.
"If we get that done, with a few high-calibre signings, we'll have a really good chance this year."