Championship: Paul Dickov 'sickened' by Doncaster's loss to Watford
Paul Dickov felt the manner of Doncaster's defeat was "a little bit sickening", while Gianfranco Zola hailed Watford.
Last Updated: 17/09/13 11:31pm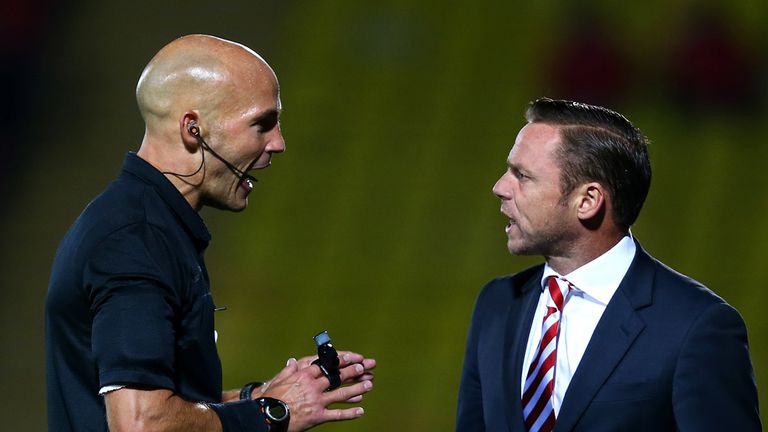 The Hornets had numerous chances in the last 30 minutes to seal the win after McGugan's early strike had been cancelled out by Chris Brown.
But a draw looked an increasingly likely outcome until three minutes from time when Sean Murray was fouled by James Husband.
While Watford thought the offence happened inside the 18-yard box, Dickov was adamant it did not and said: "It's not a penalty. I thought that at the time and after seeing it again not just once but various times from different angles I just don't see how the referee can make that call with a couple of minutes left to go.
"It's outside the box. The linesman's flagged for a foul, which it was, the referee's got a prefect view of it but to give a decision like that late in the game is really disappointing."
Asked what he said to referee Darren Drysdale, the Rovers boss responded: "I told him it wasn't a penalty. Nine times out of ten your first reaction is the right reaction and we didn't feel it was, I could tell by young James' reaction that it wasn't and as soon as I've seen the linesman flag for the foul at no point was he going to give the penalty.
"We feel hard done by. We know they're a good team but we defended for our lives. The one thing I don't mind doing is to get beat but to get beat in that manner is a little bit sickening at the minute."
Asked his view of the penalty, Hornets' head coach Gianfranco Zola said: "It looks like it was on the line inside but that is my eyes. I think Paul's eyes are seeing it more outside but what can I say, the referee has given the penalty.
"When we played Charlton there was maybe a penalty towards the end that hasn't been given so sometimes you are on the right side and sometimes you are the wrong side. But I don't think it takes anything away from the performance."
Watford have only lost once this season but this was their first win in five league matches.
"I'm delighted for the three points," Zola said. "I'm also pleased with the way we played in the second half. We realised that it wasn't our best day in the first half but we've been patient, waited and went back to basics and started to use the pitch better.
"I think the quality of the football improved and also the chances came, one after the other. In the end we've been rewarded with a penalty but I think the team has done enough to win the game."
Zola said he was "very impressed" with his two-goal midfielder McGugan and added: "Today's he's played a game for 90 minutes with quantity and quality, that's what I'm looking for.
"He's certainly doing a very good job and also he's providing those goals that I expect from him and from the [other] players, not only from the strikers."