All I want for Xmas...
Doncaster Rovers' Harry Forrester gives Sky Sports an insight into life as a footballer over Christmas and outlines the club's targets as they bid to survive back in the Championship
By Peter Fraser - Follow me on Twitter @SkySportsPeteF
Last Updated: 17/12/13 4:05pm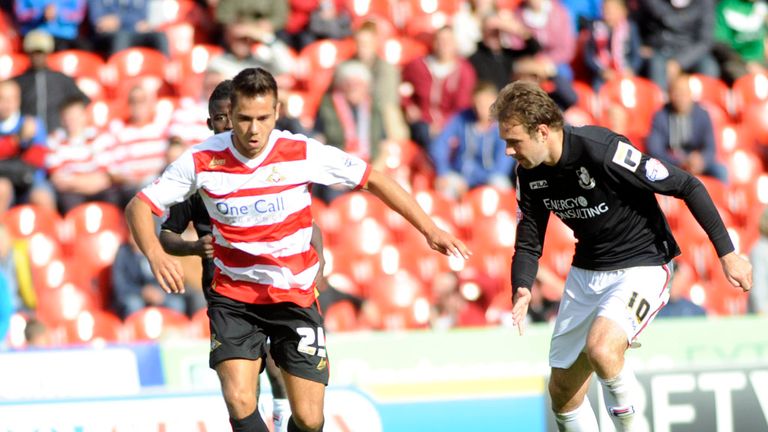 Christmas is a traditionally testing time of year for footballers and can prove vital over the course of the season.
With games coming in quick succession, managers need to use their squads wisely in the aim of picking up points which can boost promotion campaigns or help in the bid to avoid relegation.
Doncaster Rovers, promoted as League One title winners last season, will be concentrating on the latter - positioned as they are in 20th position in the Championship and only three points above the drop zone.
And we caught up with striker Harry Forrester, who appears in EA SPORTS FIFA 14, to discover the club's targets while also getting an insight into life as a footballer over Christmas.
What are you doing for Christmas?
"I am up in Doncaster. I have got a house up here and my family is here. My partner's parents will be coming up. We have got a home game over Christmas so I cannot really travel anywhere so we will spend Christmas at my house."
Do you have to train on Christmas Day?
"We have not been told our plan as yet but I presume we will. The last couple of clubs I have been at, most teams do train on Christmas day whether it is early in the morning or in the afternoon so we will most likely be in for some period of time."
What does training involve on Christmas Day? Is it tactical or fitness work?
"Normally there is a game on Boxing Day so some of it is tactical stuff and also getting your legs moving to make sure you stay sharp over Christmas. There are a lot of games and you need to prepare your muscles, keep moving and keep training. There will obviously be tactical stuff as well so it is not too hard on the legs. It will be short and sharp to keep your focus."
Is training over Christmas something you enjoy?
"Yeah, it is part of the job. Everyone talks about us being in on Christmas Day but it comes with the job. You know about it when you sign up. I do not mind it and I live locally to the training ground so it is not a big issue for me. If you live a bit further away, I suppose it can be a bit more of a hindrance to your Christmas dinner!"
It must be good fun to see your team-mates on Christmas Day. What is the atmosphere like among the squad?
"It is a nice time of year and everyone has a bit of banter. The club normally put on a bit of a meal for you with all the staff to get everyone together and wish each other a merry Christmas. It is a good time of year. Everyone is normally happy and we will be even happier if we are winning."
The old cliché is that the games come 'think and fast' over Christmas but how important is that period in your season?
"There are so many games so there are also so many points to be won and lost. You can go into the Christmas period and be scrapping at the bottom or the top of the table and then come back and say, 'wow, where did that go?', because you have lost or picked up points. It is a good time of year to try and pick up points and try and build from there."
With that in mind, how important is momentum going into the Christmas period?
"It is good to go into those games with a bit of confidence. Likewise, it can be difficult to find your confidence. If you pick up wins or away draws, it is a good time to kick-start your season."
Footballers always say they want to play every game but is Christmas a physically draining time of year with the quantity of games?
"That is where you use your squad and the depth of your squad really is tested. It is about getting the best out of the players. You have to get through the period, try and come out with as many points as possible and no injuries."
Beyond Christmas, what are Doncaster aiming for this season and how do you assess the campaign so far?
"We are pleased. We have just come up from League One and we have beaten the likes of QPR. We also played very well against Burnley. We have got teams who we have played very well against and then we have also got teams we have not performed against. We need to try and find consistency. The main aim for us will be to stay in the division, because it is such a demanding league. There are some big, big teams in the division. It is about staying in the division and trying to build on that for the years to come. I think we have done as well as we believe we can do, and we also believe we can do better. We will try and kick on and push up the league."
Harry Forrester appears in EA SPORTS FIFA 14, available to buy now on Xbox One, PS4 and all other formats from Game.co.uk. Start your Ultimate Team today at easports.com/uk/fifa/fut-hub