Middlesbrough striker Scott McDonald says there are no longer any issues with him and Tony Mowbray
Scott McDonald insists his issues with Middlesbrough manager Tony Mowbray are in the past.
Last Updated: 29/10/12 12:19pm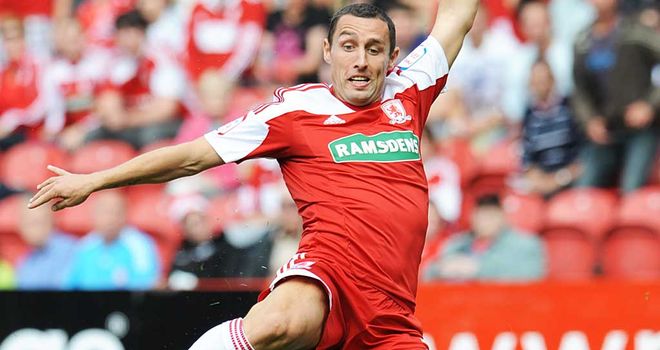 The Australian international was frozen out by Mowbray earlier in the campaign, but he has returned in recent weeks and made a stunning impact with three goals in four appearances.
"That's all in the past now, isn't it," said McDonald - who came off the bench to score both goals in Boro's 2-1 win over Bolton on Saturday.
"We just have to get on with things, and if I can contribute like this more often then hopefully it's going to help us get to where we want to be.
"There's a lot of the season to go, and hopefully that's food for the thought for the gaffer, albeit that the rest of our strikers have been playing well and have been in the goals too.
"It's a positive thing that everyone's scoring and people are coming off the bench and doing a fantastic job. Maybe we've lacked a bit of depth in the last two years, but this year we've got that."
Mowbray also insists that there are no issues with him and McDonald, adding: "It has been a tough start to the season for Scott but he is very much back in the fold now.
"He has been coming in every day and smiling and getting on with his work and this was fantastic for him.
"Like any player, he would not have been too happy sitting on the bench at the start of the game, but when his opportunity came he took it with both hands.
"That's three he has got almost in cameo roles. The job for Scott is to stay in the team and keep scoring and make life difficult for me to have to change it.
"It would not surprise me if Scott finished up our top scorer this season. The lad has an instinct for goals. He has spent his life in and around the six-yard box."