Cup Dreams
Graeme Bailey chats exclusively with Millwall ace Shane Lowry ahead of their FA Cup semi-final clash with Wigan
By Graeme Bailey - Tweet me: @graemebailey
Last Updated: 12/04/13 11:07am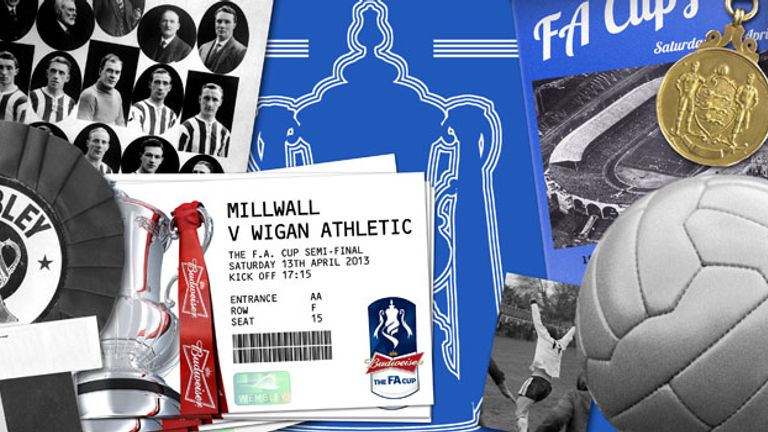 Our FA Cup dreams feature has made it to Wembley as the competition reaches the semi-final stage. This week we focus on the tournament's outsiders and the only non-Premier League side left in the world's oldest club competition: Millwall.
In the last 20 years only two clubs from outside the top-flight have made the cup final - Cardiff City and...Millwall.
The Lions made their only previous cup final appearance in 2004 when they lost out to Manchester United at the Millennium Stadium.
Now Millwall face Premier League strugglers Wigan Athletic in the last four at the new Wembley as they look to book another cup final date. Millwall's last cup final featured Australian Tim Cahill as their star turn, and now compatriot Shane Lowry is hoping he can be the latest Antipodean to take centre stage at the home of English football.
"When I was a young lad in Australia I used to get up at three in the morning, and I remember watching it when Millwall got there last time with Tim Cahill in the team and hopefully I can be another Australian to get into the final," Lowry told Sky Sports.
Given Lowry plies his trade in the Championship he concedes that the weekend clash with Wigan will be one of the few games shown Down Under.
"It will be live on TV in Australia and millions of people in the world will see it, but you can't really be thinking about that," he continued.
"It is another game and you have to take yourself away from all that. We have to work hard as a team during the week and we will go into the game full of confidence that we can give Wigan a good game."
The fact the match will be broadcast means Australian coach Holger Osieck could well be watching, and that could help Lowry deliver a timely nudge in his direction ahead of the World Cup finals next year.
"I hope he is watching, I haven't played for Australia yet and it is a big ambition. It will help to play in a semi-final and then get to a final. Hopefully that will happen."
Cup magic
Despite not being British, the 'magic' of the cup is not lost on Lowry.
"Obviously it is one of the oldest cup competitions in the world and everyone knows what it means, even more so for a club the size of Millwall. To get where we have got to is a great achievement."
Millwall have had an interesting run to the semi-finals, dispatching non-league Luton Town and Lowry's former club Aston Villa en route to the last four.
But perhaps their toughest win came in the quarter-finals as they beat Championship rivals Blackburn Rovers after coming through a replay at Ewood Park.
Lowry admits that Millwall have enjoyed their share of luck in their quest to make the Wembley Arch but is adamant they are worthy semi-finalists.
"Yes we have had a bit of luck along the way but a lot of teams do," he added.
"But we deserve our place in the semi-finals and when it comes to the game we can give a good account of ourselves and maybe cause a surprise."
A cup run can often prove to be a distraction, especially to a club in Millwall's position where they are still keeping one eye on the relegation battle, but since the win over Blackburn they have lost just once in five games.
"I think the win against Blackburn really kick-started our season again because we were going through a bad stage and we had lost a few points," admitted Lowry.
"But we had played really well earlier in the season and now that win over Blackburn has given us great belief again. We are definitely seeing some positive results."
It's fair to say Millwall have endured an indifferent campaign. At one point they were flirting with the play-off picture but have since dropped and are now just five points outside the bottom three.
But Lowry insists that, given the size of Millwall's squad, they have much to be proud of and even more so if they can book an FA Cup final date.
"We are probably one of the smaller teams in the Championship squad wise, so at the start of the season we hoped to push for a top-half finish. Now we have a cup semi-final and we have the prospect of a cup final so it could be a very good season for us."
Millwall boss Kenny Jackett has also seemingly navigated the issue of players' heads being turned by the prospect of a match at Wembley but Lowry insists that this was never going to be an issue.
"The gaffer is not silly and he will not let the team get into that way of thinking. We know that the league is the most important thing and we still have to work on that. We just have to treat this like every other game.
"The boss has been there himself as a player, to a cup final, and he knows what it is all about."