Wembley calling
Crewe keeper Steve Phillips discusses the Johnstone's Paint Trophy final and life in League One.
Last Updated: 27/05/13 11:39am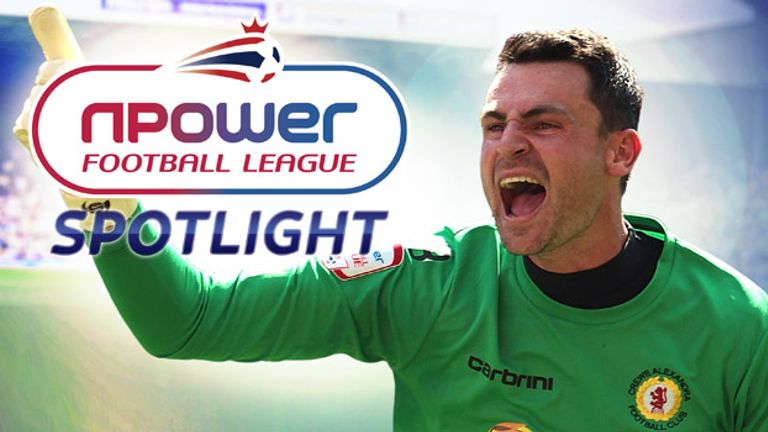 The 2012/13 campaign is entering the final straight, with promotion pushes and relegation battles now in full swing.
Here at Sky Sports, we continue to take you to the very heart of the Football League, with our Spotlight features intended to give you a greater insight into the clubs and players that keep us on the edge of our seats.
We are hoping to bring you the views and thoughts of a representative from each of the 72 teams over the course of the season, with those involved asked to give their take on the division they compete in, the club that pays their wages and those we should all be keeping an eye on.
Next in our hot seat is Crewe's Steve Phillips, with the goalkeeper gearing up for the Johnstone's Paint Trophy final this weekend, while he also tells Rachel Griffiths that Alex are not ruling out a late play-off push.
Crewe take on Southend in the Johnstone's Paint Trophy final at Wembley on Sunday. Any last-minute nerves?
I'm a bit old to get nervous, so it's more excitement than nerves. I've been lucky enough in my career that this will be my fourth time playing in the Football League Trophy but it's as exciting as if it were my first time. These types of occasions are the ones you put in your pocket for a long, long time. Everyone at the club is looking forward to it. It's going to be a great atmosphere and a great occasion.
You're widely being classed as favourites for the clash. Is that a fair assessment given you're playing in the tier above the Shrimpers?
We may be favourites, based on our current form in League One and obviously being in the higher division. But for me, the players and the management, and the club as a whole really, we don't really take into consideration that aspect of it. They're a very capable side. They've got some big, strong lads in their team that can cause a lot of problems. Wimbledon beat Liverpool all those years ago in the FA Cup final, when Lawrie Sanchez scored. They were underdogs, and they went on to beat Liverpool. So every cup final can go either way.
Will it be a particularly special experience for the side returning to Wembley less than a year after you secured promotion to League One via the play-offs there last season?
In 2006-07, roughly around that time, we did it with Bristol Rovers but we did it the other way around. We reached the Johnstone's Paint Trophy final first, then the play-offs at the end of that season. I didn't think that would ever happen again, because that is incredibly rare, to do it twice in one season. We've done it in different years this time, but again it's very, very close together. So to have done that twice in my career is very fortunate.
Do you think the experience of last year's trip to Wembley will give Crewe an edge on Sunday?
I think it will help us. They've got some experienced players in their team as well but having had the experience and it being so fresh in everybody's mind still can only work in our favour and be a positive and have a positive impact on our team.
You beat Southend in the League Two play-off semi-finals last season over two legs. Are you expecting them to be out for revenge?
We edged them out, just about, over the course of two legs. It was a very tight game. Of course revenge is going to be on their minds. It will add a little bit more spice to the game. They'll be wanting to put the record straight for that defeat.
Manager Steve Davis chose to rest you for the 1-0 win over Preston on Monday and gave deputy Alan Martin the gloves. Will you definitely be back between the sticks for Wembley?
I'm going to be playing on Sunday. I'm happy with my form going into the final. Al deserved a game on Monday and he did extremely well against Preston but I'm in the team at the moment and as long as I'm playing well I'd expect to keep the shirt until the end of the season.
Davis has said two of your key players, Luke Murphy and Mathias Pogba, are doubts for the clash due to fitness problems. How much of a blow would their absence be?
They're not ruled out for sure. We're still pretty optimistic on their fitness. Until that changes then they're going to be very much part of the occasion, and the team.
Crewe currently sit 10 points outside the top six in League One with a game in hand and six left to play. Are the play-offs still within your grasp?
They're not out of reach. It's going to be a very tough ask. We're going to have to win almost all of our games, for sure. Out of the six games we've got left after Sunday, I think five of them are against top-six teams. So we can take points off the teams above us. It's a very, very tough ask but as long as there's hope we'll keep going.
So it would be a third Wembley appearance in 12 months...
Let's get this Wembley appearance out of the way first and concentrate on that. But there's always one team that comes out of nowhere. That was us last year in League Two, why can't it be us again this year?
It's incredibly tight at the top - who do you think has the best chance for the title?
Doncaster are up there and have been up there for a long time but they're not home and hosed yet. All the places are up for grabs and anyone in the top six can still get automatic promotion in my eyes.

Have you been satisfied with the season so far after going up last year?
We're always striving to be better. After getting promoted we wouldn't have accepted sitting bottom, for sure. That's not the way the manager is and that's not the way us players are. We want to keep progressing and keep pushing and end up in the Championship eventually, that's the aim. I think the season has gone very well. We've got two Wembley appearances in the space of not very long, we've had some very good performances and been quite consistent, although if you ask the boss he's not been over the moon with our consistency. But overall, over the general whole of the season, if we do well in the run-in we can be quite proud of ourselves.
The season started less than smoothly for you after a knee injury turned into a cancer scare but fortunately you've been given the all clear. Are you feeling back to your best?
It took me a while to get going and it was quite a traumatic time being told I could have had cancer, so that was a bit of a blow. The club was magnificent, as you would expect. Al got in the team and I was the goalkeeping coach for the first-team and the Academy. I was helping Al progress and I'd like to think I had a positive impact in the way he performed through the start and up to the halfway mark of the season.
Is coaching something you're hoping to do when you eventually hang up your gloves?
I'm not going to play forever and I still think I've got a lot to offer the football club over these next two or three seasons and a lot to offer the youngsters at the club. I can pass on my experience to the Academy players and the younger pros. I would like to finish playing my career at the club, for sure. It's a super club that's going in the right direction. We're going to get category two status for the Academy, which is huge for the club as well. I'd like to end up being the club's goalie coach, from first-team all the way down to the under-8s.
You're currently under contract as player-coach until next summer. Will you be looking to retain the No.1 shirt until then?
I'll absolutely be looking to keep hold of the shirt for that, as long as my body allows me to keep performing to a top level. I've been the No.1 at almost every club I've been at for a long time and that's not going to change. There's going to be a lot of competition between me and Al. We get on extremely, extremely well, which is very healthy. The goalkeeping situation at the club is extremely healthy. We're under no illusions that we're up against each other for one shirt and that's the way football is. Whoever is in the team will deserve to be in the team.
Do you see Martin as one for the future for Crewe when you eventually retire?
Looking at the situation we've got, we've got an England Under-19 goalkeeper in Ben Garratt, who's a very bright prospect and Al has only just turned 24, so there's a lot to be optimistic about in the goalkeeping department at the club, which hasn't always been that steady over the last five or 10 years. We need to start producing more goalkeeping talent through the younger ages.
Finally, it appears you won't be taking it easy at the end of the season with a charity bike ride lined up?
Yes I keep going. It's from London to Paris on the 6th June and it's four days long, about 90 miles a day. It's to raise money for Leukaemia Research and I'm also raising money for Cauldwell Children's Trust, which is a charity close to my heart.