Peter Beagrie
Football League Expert & Columnist
FL72: Peter Beagrie blogs on Rodolph Austin, John Ryan and Woking
Peter Beagrie sings the praises of Rodolph Austin, John Ryan and Woking in his latest blog.
Last Updated: 14/11/13 8:14pm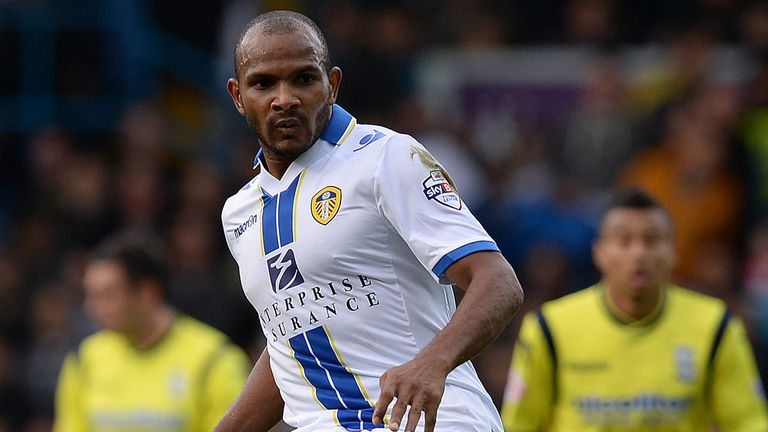 The former winger, who played over 770 games, representing clubs in all four tiers of the English footballing pyramid, including Manchester City, Everton, Bradford, Sheffield United, Scunthorpe, and Grimsby, forms part of the Sky Sports punditry team for all the big matches in the Championship, League One and League Two.
So if you have a poser for Peter, whether it's about your team, a player, match or incident that has caught your eye, or a wider point on the Football League, send it in.
Read below for this week's column where Beags talks Leeds engine-roomer Rodolph Austin, MK Dons starlet Patrick Bamford and the Woking team circa 1991...
LEEDS' LEADER
Hi Beags, I feel Rodolph Austin has been key for Leeds this season. What do you like about his game? Callum Ashfield
BEAGS SAYS: I couldn't agree with you more, Callum. Rudy has been a revelation recently in a central attacking midfield role and been a major reason why the Leeds strikers are getting good service, attracting two or three defenders towards him and then releasing the ball at the right times for the forwards to profit. Austin is strong, direct and has a great strike from distance so it makes sense to get him further up the pitch, while he was also a great choice as captain as he drives and inspires players around him and, never afraid to mix it, is a terrific all-rounder. Alongside Ross McCormack, the big Jamaican has been one of Leeds' most influential players.
BAM BUSTER
How highly do your rate MK Dons' Patrick Bamford? Robbie Kimble
BEAGS SAYS: I rate Patrick very highly, Robbie, but his career is still in its infancy and his full potential is a few years away. MK Dons is the best fit for Bamford at the moment as he is getting game time and playing for a manager in Karl Robinson who likes to play football the right way. My belief is that Patrick should stay at stadium:mk for the rest of this season and then have a campaign in the Championship - possibly with the Dons - as that will serve his footballing education very well. Bamford is a million miles away from Chelsea's first team at the moment but if he stays dedicated and focussed he has a very bright future - whether it's at Stamford Bridge or not.
MAKING HIS MARK
Hi Peter, Do you think Mark Venus will make a good manager? Andrew Hall
BEAGS SAYS: In a very competitive industry where there are thousands of coaches qualified but so few jobs, Mark is going to find it difficult to get his first managerial opportunity. That is a harsh reality but there are former players who have taken non-League teams into the Football League and a step backwards can often act as a springboard for future opportunities at a higher level. Sometimes, Andrew, your future is more about good luck than good management and I wait to see whether Mark steps out of Tony Mowbray's shadow and goes it alone.
RYAN MIGHTY
John Ryan has left Doncaster this week. What do you think his legacy will be? Lewis Fleck
BEAGS SAYS: I believe John has been absolutely brilliant for Doncaster and whenever I've met him he's been nothing but a gentleman with a genuine love and passion for your football club, Lewis. Money, ambition and sacrifice have been realised in equal measure in a rollercoaster ride from non-League to the Championship, which has thrilled along the way with a lovely brand of football and a new stadium to boot. John has had a massively positive effect but all good things come to an end and he will be hoping for Doncaster's sake that, despite what the fans sing, there's NOT only one John Ryan.
CARD SPARK
What was your favourite FA Cup match you ever played in? Ashley Hicks
BEAGS SAYS: That's an easy one, Ashley. It was Everton versus Woking at Goodison Park in 1991. The Cards gave us a right scare, holding us to a 1-0 victory, and got a standing ovation from everyone in the stadium when we exchanged shirts afterwards. I saw a lot of the ball and enjoyed the game; we played well but the Woking 'keeper had a blinder and all of their players covered themselves in glory. There was no giant-killing but Woking emerged with great credit and a story to tell the grandchildren. I was quite happy to nearly be the sacrificial lamb in that one.
LOOKING NORTH
Can Ricky Ravenhill make a big difference for Northampton? Also, what else do we need to get off the bottom of League Two?Nick Brown
BEAGS SAYS: The one thing Ricky will bring is a competitive edge as he is very combative and loves a tackle, but he also has leadership qualities having captained teams at various levels in the Football League. It is easy to say that Northampton also need clean sheets and goals as that is the formula that will get your club rising up the table, but I feel the team needs more pace and to be a little less predictable. Aidy Boothroyd has tried to change the style to a degree and while it hasn't born fruit yet, there is still two-thirds of the season left so Aidy has time and will be scouring the leagues to try and find a catalyst to change his team's fortunes.
Send your question to Beags using the feedback form at the bottom of this page or at the bottom of any of Peter's articles...