Record breakers
Skysports.com pays homage to Huddersfield Town following a record-breaking weekend for the Terriers.
Last Updated: 21/11/11 12:32pm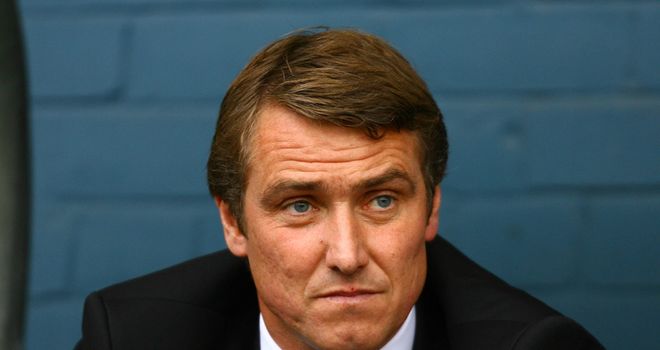 Most weekends, a League One meeting between Huddersfield Town and Notts County would pass under the radar relatively unnoticed.
This, though, is no normal week - with a third tier fixture at the Galpharm Stadium set to be etched into the history books.
How long it stays there remains to be seen, but there is a good chance that particular page will not need to be re-written any time soon.
When you consider that the record in question has just been broken for the first time in 33 years, the magnitude of Huddersfield's achievement is taken to a new level.
The Terriers have now gone 43 games without defeat in League One, and that run now sets the standard in Football League circles.
Lee Clark's side moved to that mark on Saturday, with a 2-1 victory over Notts County seeing them raise the bar when it comes to unbeaten runs.
They have not come unstuck since 28th December 2010, with Southampton the last side to take three points off Huddersfield.
To put that achievement into perspective, the record they have taken used to belong to a Nottingham Forest side that was bossed by the legendary Brian Clough, 12 months prior to lifting the European Cup.
Benchmark
Forest went 42 games unbeaten in 1978, but they now sit second on the Football League roll of honour.
Huddersfield set the benchmark, with it possible that they could go an entire calendar year without tripping up in the league.
There will be considerable tests to come, with their next outing against table-topping Charlton - which can be seen live on Sky Sports HD1 - expected to go a long way to determining whether or not they can achieve that goal.
The Terriers do have an air of invincibility about them at the moment, though, with Clark's squad entering most fixtures with half the war already won - with doubts put in opposition minds as soon as they take to the field.
That is kind of standing Manchester City are enjoying in the Premier League at present, and Huddersfield are the only other side in England yet to come unstuck in the league.
Promotion is now very much the target, with the club having suffered play-off heartache last term.
The one blot of their 2011 copybook came in the League One play-off final at Old Trafford back in May, with Peterborough currently enjoying life in the Championship at Huddersfield's expense.
Clark will be wary of making the same mistake twice, with the Terriers unfortunate to have missed out on a top-two finish last term.
Outstanding
The outstanding form of Southampton and Brighton edged them into third place and ultimately cost them a second tier standing.
This time around they will be desperate to secure automatic promotion, but once again the race for a top-two finish looks set to be a close run thing.
Huddersfield, despite being unbeaten, currently sit second in the table, with Charlton having picked up five more points from their 18 games so far.
While the Terriers will be looking up, a quick glance behind them shows that Sheffield Wednesday - another former top flight outfit - are hot on their heels.
Just six points separate Huddersfield in second from Sheffield United in fifth, and all of those in the promotion mix will be setting their sights on the top two.
Clark must ensure that his Terriers continue to churn out results, as records will count for nothing if they are not celebrating promotion in 2012.
It could be argued that the end of their historic run might not be a bad thing, as it would alleviate some of the pressure that continues to build and would allow the club to slip back out of the spotlight and focus fully on their promotion bid.
For now, though, they can justifiably hold their heads high and bask in the knowledge that no Football League club before them has ever achieved what they have just managed.