Poyet happy with table toppers
Brighton boss Gus Poyet was in buoyant mood following the league leaders' 1-0 win over Bristol City.
By Hayley Paterson
Last Updated: 10/09/11 7:32pm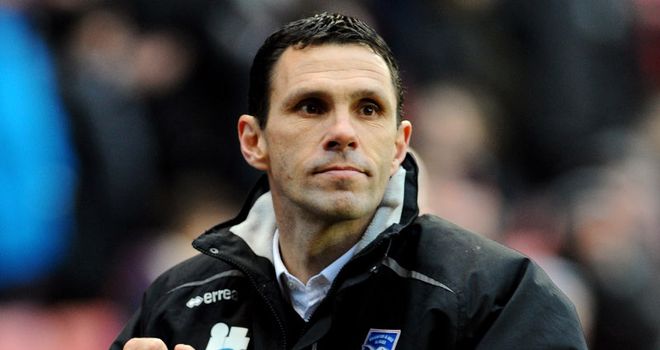 Brighton boss Gus Poyet was in buoyant mood following the league leaders' 1-0 win over Bristol City.
The Seagulls are topping the Championship table and added the maximum points to the board following Ashley Barnes' 80th minute winner at Ashton Gate.
Poyet was pleased with his team's second-half performance and their dominance ultimately paid dividends with the goal ten minutes before time.
"I'm not sure how good we are. But I do know that we are difficult to break down and keep going for 95 minutes if necessary," Poyet said.
"We lacked some aggression in the first half today, but it was totally different after the interval and we deserved to win the game because we created more chances.
"David James was an important player for Bristol, making several good saves, but I always thought we would score because I have such good attacking players on the bench.
Great time
"It's a great time for everyone involved in Brighton. We even got a good (Carling) Cup draw at home to Liverpool so we are really on a roll.
"I'm delighted for our supporters, who have again gone home happy today. To realise why you have to know what was going on at the club two years ago.
"We've come a long way since then. I'm not sure whether we can stay top of the Championship, but if we go on doing the right things we will win football matches."
Keith Millen's side have now failed to score in all four games at Ashton Gate this season and the manager is facing the pressure from supporters.
"We have a problem not scoring at home and it's one that needs to be addressed quickly," he said.
Vital
"I will look closely at the match DVD, but I don't think there's a lot wrong because we matched Brighton in all departments. The first goal was always going to be vital and we couldn't quite find the right final ball or finish.
"I understand the frustration of the fans. I thought we were gaining the initiative early in the second half, but we aren't threatening to score often enough.
"We played 4-3-3 and probably got more men forward than in a 4-4-2 formation. But Nicky Maynard has missed a fair bit of training recently with a couple of niggles and wasn't quite on his game today."