Poyet calls for education
Gus Poyet was an interested spectator as Luis Suarez returned to Old Trafford and believes more must be done to educate foreign players.
Last Updated: 14/02/12 8:49am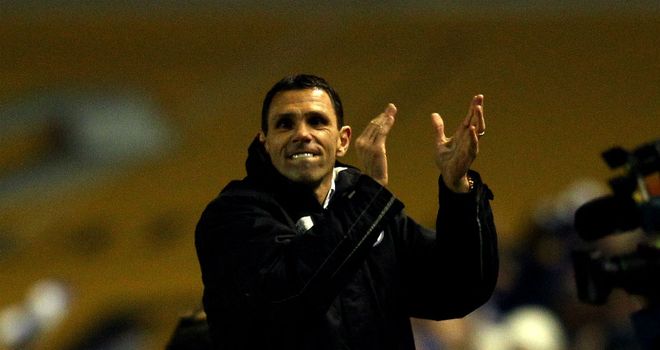 Gus Poyet was an interested spectator as Liverpool striker Luis Suarez returned to Old Trafford and believes more must be done to educate foreign players.
The Uruguayan international lined up against Manchester United for the first time since serving an eight-match ban for racially abusing full-back Patrice Evra.
However, Brighton manager Poyet believes his compatriot and other foreign players in the game should be educated more on English life in order to avoid further controversies.
Suarez and Evra exchanged words at the beginning of the match when attempts to shake hands became hostile, but Poyet was proud of the way his fellow countryman reacted with an immediate apology.
"It was great the way Suarez reacted and apologised, and Liverpool and Manchester United as well," he told the Daily Mail.
"You have to give great credit to United, accepting the apology straight away. Everyone should draw a line under it. It's finished. I'm glad it's over. It was going too far.
"The Professional Footballers' Association should look at it. They are responsible for the players - for good and for bad. That's the real first job of the PFA.
Responsibility
"But it works both ways. It's the part of a player that he needs to put himself in a new situation and adapt very quickly and, of course, the part of the club. It would be unfair to make one or the other responsible."
Poyet, 44, spent seven years of his playing career in England with Chelsea before moving on to London rivals Tottenham.
The former Uruguay international, who guided Brighton to League One promotion last season, recollects being give much advice on how the English game works upon his arrival.
And Poyet believes the Professional Footballers' Association must do more to prevent situations like that of Suarez from arising.
He added: "I remember they didn't stop telling me, 'Don't do this. Don't do that. Don't go with your hand. Don't try to go down in the box if it's not a penalty. They'll kill you. It's not acceptable in England'. And I was thinking, 'Where am I going? To another planet?'.
"You see people diving and you think that you did that once. But now you think, 'Stop! Don't go down'.
"Things happen in other countries that, in England, are not acceptable, and we need to realise that. It's not that we are better or worse, we are just different.
Acceptable
"We accept things that in England you don't. We don't accept things that you do. I've been here a long time to know that. You need to be in a place like England for at least a few months; I would say years."
Poyet made the switch to England in 1997 when he signed at Stamford Bridge and is adamant that the influx of foreign players has advanced the standard of football while admitting there is always two sides to every story.
"If you didn't bring in any foreigners in the 1990s, English football would be totally different," he said.
"It would be a little bit more fair, but there would be terrible tackles, so it would go both ways.
"Plenty of foreigners, not all of them, have done a lot for English football, probably worldwide - the quality of Zola, Bergkamp, Henry, Cantona. They made us, or helped English football, to be top in the world.
"With that comes some negatives. You need to accept it - not just blame the foreigners one way and forget about what they did that's good."
Poyet is set to meet Suarez on Saturday as he takes his Brighton side to Anfield for an FA Cup fifth-round clash, with the Championship looking to cause an upset.
"It will be great for everyone," he added. "It would be great for our fans, for Luis Suarez, if he doesn't score, of course. It's up to us to try to bring people together. It's so important, football."