Brighton manager Gus Poyet slams 'hypocrisy' in criticism of Luis Suarez
Gus Poyet has hit out at the exaggerated reaction to Liverpool striker Luis Suarez's bite on Branislav Ivanovic.
Last Updated: 23/04/13 12:57pm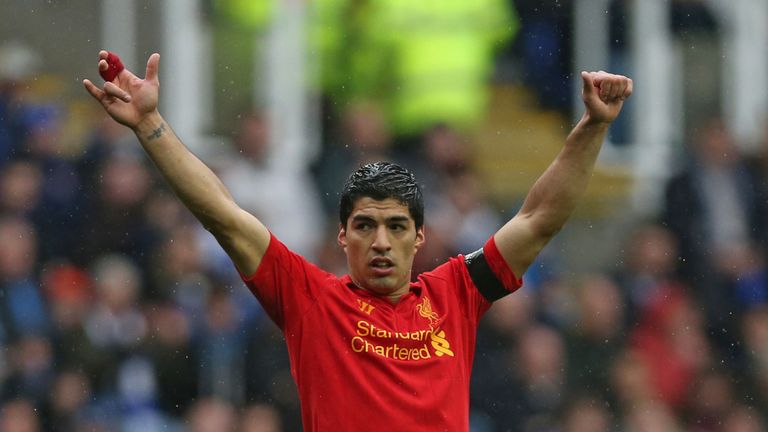 Suarez has been charged with violent conduct by the Football Association after biting Ivanovic in Sunday's game against Chelsea, while Liverpool have fined the player but insisted he will not be sold.
Brighton & Hove Albion manager Poyet admits there is no defence for what his fellow Uruguayan did but believes the criticism has been too harsh, especially after Suarez issued a swift apology.
"We exaggerate too much," Poyet told The Times. "Luis knows what he has done, he knows he shouldn't do it and it would be better for him, of course, not to have any more issues this year.
"There are players who have done terrible things and apologised after two minutes and have been portrayed as a hero for apologising quickly.
"Luis Suarez apologises immediately and nobody believes the apology. It's sad. Are they living their personal lives by the same rules? I don't like that. There is plenty of hypocrisy in football now.
"He tried to bite someone in the arm; no harm, really. A little pain. But if a player goes over the top and tries to break a leg? That's good because we are strong and we like the tackle.
"That's where we are in England. I know where I am living, and I adapt and I live with it."
Poyet could understand why Suarez might consider moving to a different country if he becomes too unpopular.
He added: "Do you want him in England? Yes or no? If everybody is against him, he will leave. I know him quite well. I don't know how he is managed, so I can't comment on that.
"It's difficult to have Luis playing at that level with a different character. You need to play the whole package and manage him the best way you can and get the best out of him without any other issues.
"You need to be with him daily and know where he is and in which country he is playing football. It is not just about the 90 minutes we see. I think right now the mental side of football is the most important part."
Poyet accepts that the way Suarez plays his football will divide opinion, but believes he is often misunderstood by English audiences.
"They think they know the reasons why he plays how he plays," Poyet explained. "He learnt to play in a certain way and he will do everything possible to win a football match; sometimes too much. He knows that better than you and me.
"Some people like him, some people don't. If he plays for your team, you will probably like him and if he plays against your team, more people will hate him."