Brighton's Amex Stadium chosen as a venue for the 2015 Rugby World Cup
Brighton's Amex Stadium has been chosen as a venue for the 2015 Rugby World Cup.
Last Updated: 02/05/13 1:21pm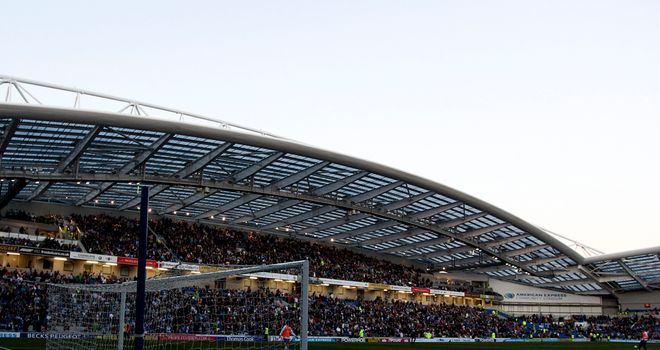 The Seagulls' new ground will host two Group B games, which will feature South Africa and Samoa against as yet unknown opposition, in September.
Albion executive director Martin Perry told the club website: "We are absolutely thrilled that the stadium and city has been chosen as a host venue for the 2015 Rugby World Cup and are now relishing the prospect of hosting four teams and two matches at one of the world's biggest sporting events.
"Right from the outset when we were planning the stadium, we recognised that the need for a new permanent home for Brighton & Hove Albion could also create an opportunity for new facilities to meet the wider sporting and community needs in Brighton, Hove and the South of England.
"We promised that the stadium, more than any other building, would have the ability to shape a city, it puts the city on the map, has the power to change lives and represents a community's pride and aspirations.
"Our successful joint bid is just another legacy of that promise. Rugby fans in this area will be able to play their part in a global occasion which is going to put the stadium and Brighton & Hove on the world stage.
"We have two years to wait, but we are looking forward to providing a fabulous spectator experience and hope we can help provide many memories of what promises to be a truly unforgettable event."