Championship: Tomasz Kuszczak had hoped to make Watford loan permanent
Tomasz Kuszczak admits he had hoped to make a loan spell at Watford permanent but is happy to have ended up at Brighton.
Last Updated: 28/10/13 3:47pm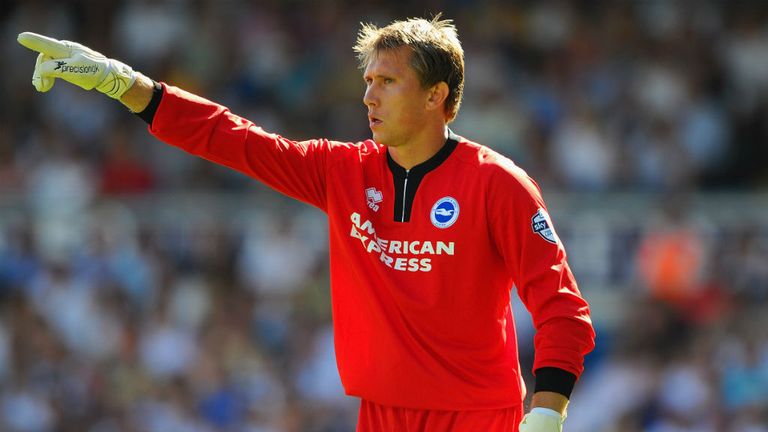 The Polish goalkeeper was forced to look elsewhere for regular first team football in February 2012 after finding himself out of favour at Manchester United.
He excelled during a 13-game stint at Vicarage Road, allowing him to attract plenty of interest as his Old Trafford contract ran down.
The 31-year-old says he did hold talks with Watford about remaining on their books, but no deal could be done and he ended up joining a Championship rival.
On his time with the Hornets and how his career benefitted from a short-term agreement with the capital club, Kuszczak said in the Watford Observer: "The time I had on loan to Watford was very important to me.
"I hadn't had regular football for eight months and it was an opportunity for me to go, and the manager Sean Dyche gave me a chance to play for him. It was fantastic for me because maybe that's why I'm here.
"Things move very quickly in football and, when you aren't playing for a long time, people forget about you. People ask questions: What is his form like? Is he fit? Is he motivated? What's going on with this person if he hasn't played for so long?
"That was a time when I was in that position.
"I went to Watford, I played games, I built my confidence, I enjoyed it and I tasted football after a long time not playing. It was a great time for me. It was short but I enjoyed it."
Kuszczak added: "I talked to Sean Dyche at the time and he wanted me to stay and I was quite open to that. But the situation then at Watford was different to how it is now. They just couldn't afford to sign me.
"It's not like I asked for something crazy, but the club was struggling a little bit and that is why I didn't sign.
"I was playing there so obviously they were the first to talk to me about staying longer, but we didn't find a solution."