Seagulls soaring
Brighton midfielder Andrew Crofts discusses weighing in on the goal front and future ambitions.
Last Updated: 27/11/13 4:11pm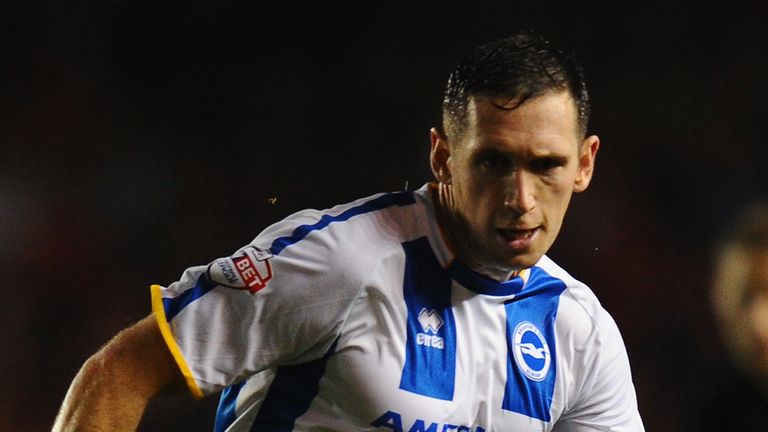 The 2013/14 campaign is now well under way, with divisions beginning to take shape.
Here at Sky Sports we will look to take you to the very heart of the Sky Bet Football League over the coming months, with our Spotlight features intended to give you a greater insight into the clubs and players that keep us on the edge of our seats.
We hope to bring you the views and thoughts of a representative from each of the 72 teams over the course of the season, with those involved asked to give their take on the division they compete in, the club that pays their wages and those we should all be keeping an eye on.
Brighton's Andrew Crofts is next into the hot-seat, with the Seagulls midfielder taking time out to discuss weighing in on the goal front and future ambitions with Chris Burton.
You've won your last three, unbeaten in five, everything seems to have clicked doesn't it?
We are on a really good run of form. Winning games breeds confidence and it's creating momentum. We know the next game is going to be really tough, but we're looking forward to it. We've got Bournemouth on Saturday and hopefully we can keep that momentum going.
During that run you've only conceded twice, you're giving yourselves a platform aren't you to go and pick up positive results?
We work on that really hard as a team. Tomasz and the back four have been superb. We do keep a lot of clean sheets and we work hard on defending from the front. Everyone is working hard to create that platform and allow us to go and create chances and win games.
Another goal for you at Wigan on Saturday - five for the season and top scorer at the moment, that's a nice bonus isn't it?
Definitely. It's nice to chip in with some goals. But the most important thing is obviously the points and the results. That's a bonus. I'm enjoying that as well, but I just want to give everything I can and keep doing well.
Were goals something you were looking to add back into your game this season?
Yeah. Wherever I've gone, I've always scored goals so it's always nice to chip in with a few. It's a big thing and it's always nice to help the team out with those goals. To do it this season and hopefully carry it on, I just have to keep working hard.
It's been important hasn't it that you and a few others have chipped in, given the injuries you've had up top?
And we are a team that does create chances. With the injuries that we've had, it's been an added bonus but those boys aren't too far away now from coming back. The squad is looking really strong. Barnsey has been doing a great job up top - he scored a couple the other day as well and was outstanding against Wigan on Saturday.
It's a real positive isn't it to have the likes of Liam Bridcutt coming back in and Craig Mackail-Smith and Leonardo Ulloa still to come?
They are three massive players and to get them all back fit and raring to go will be a massive bonus. That's only three names, but there are quite a few other boys who have just come back from injury as well - you look at Kemy (Agustien), Andrea Orlandi and Hosko (Will Hoskins), who is a bit further away. They are all coming back into contention now. Keith Andrews has had a little injury and he's coming back as well - he's another big player. The squad is looking strong.
And all coming back fresh at a really important time?
With the Christmas period coming, everyone knows for footballers that it's a busy period with a lot of games, so it's important to have a strong squad. We have definitely got that and we're on a good run of form. Hopefully we can continue that.
No games in the Sky Bet Championship are easy, but looking at the games you have got coming up through to the end of the year, there are a few winnable ones aren't there?
I try to just look at the next game, to be honest. In the Championship, anyone can beat anyone, it's just about on the day. They are all really tough games but if you can maintain momentum and keep the performances at the level we have been playing, then we will definitely win more than we lose. But the next game is the most important, and that's Bournemouth on Saturday. That's going to be tough but we're looking to be nice and positive and hopefully come away with a result.
You have to be positive that you are very much in the mix and have already played most of the frontrunners?
Yeah, we've done really well against the top teams as well. That's always a good sign. If we can keep giving ourselves a chance, there has only been 16 games and 30 to play - there is a lot of football to play and it can change really quickly - but we're all pulling in the same direction and have got some really good players. We work really hard, we've an honest bunch of lads and we just want to do the best we can.
I take it you are an ambitious bunch as well and that top-six was the only aim heading into the season?
Definitely. We want to build on last year, and last year we got in the play-offs. I'm as ambitious as they come, I want to get into the Premier League and I'd love to do that with Brighton. I really hope that we can. We know how tough it's going to be but if you're not ambitious, there is no point playing the game. We're an ambitious bunch of lads, we've got an ambitious chairman, manager as well and the fans want us all to achieve want we want to achieve.
On the gaffer, it's his first post in England and you had the change over the summer, but the transition appears to have been pretty seamless?
Obviously Gus laid some really good foundations. Oscar has come in and is playing the same style of football, the attractive style of play. He's come into it and gelled the boys really quickly. Sixteen games isn't a lot of games so to gel it as quickly as he has done, hats off to him. He's a laid-back character who is really passionate about football and you can tell he's really ambitious as well. You can tell that's rubbing off on the boys.
Gus Poyet did do a great job, but changes happen don't they and you now have everything in place on and off the field to really kick on?
It's all there. The foundations have been laid brilliantly - with the new training ground being done, and everyone knows how nice our stadium is and what a good football team we've got. That's all in place, we just have to keep producing the goods on the pitch and carry the club forward.
And on a personal level, maintaining those standards will hopefully lead to further international recognition?
I've been called up into the last few squads. Hopefully I'll get called up to the next ones in March, I'd really like to be involved in that. I'm looking to continue on that front as well.
It's a good time to be involved with Wales isn't it - if you've got everyone fit and firing, there is a really promising squad there?
Definitely. There are some top, top world-class players that Wales have produced. Obviously Chris Coleman signing a new deal, I think he's the right man to take this country forward. He knows what he wants to do and he's a really good manager to play for. The boys are definitely happy that he has signed that new deal and everyone is looking forward to getting some good results.
Andrew Crofts was talking to Sky Sports on behalf of Sky Bet, the Title Sponsor of The Football League.
For a wide range of match odds and specials on all Football League matches and a £5 free bet every week, go to skybet.com.