Sky Bet Championship: Barnsley's Micky Mellon dedicates Brighton win to David Flitcroft
Barnsley caretaker Micky Mellon dedicated the 2-1 win at Brighton to David Flitcroft, while Oscar Garcia was deflated.
Last Updated: 04/12/13 7:32am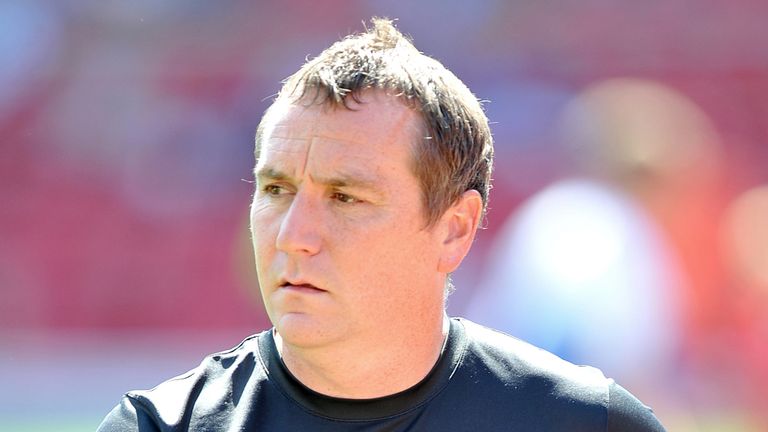 Goals from Paddy McCourt and Jacob Mellis gave Mellon a winning start in his first game in temporary charge.
Former England international defender Matthew Upson reduced the deficit with a 62nd minute header, but the Seagulls went down to their first defeat in seven games.
Mellon had special praise for Flitcroft and backroom staff Martin Scott and Guy Proctor, saying: "I want to dedicate the win to those three guys.
"I've been friends for life with David and I know what it's like to be sacked. It was a tough night last Saturday but it was done very professionally.
"David is a great man and he handled himself with a lot of class. He is one of my best friends and I hope that (this win) goes some way to heal him."
Mellon revealed he has not yet been asked to do the job permanently and stressed that, for the time being, he will be doing all he can to get results and see the club climb the table.
He added: "I haven't been asked to do it (permanently). But I'm very keen and want to do well.
"I'm guided very much by those above me and when that changes I'll be the first to know.
"We knew we had to be really professional at Brighton and the key was that I wanted us to keep the ball.
"I was delighted with both the goals and a lot of the time we were in total control. We were determined to pass it and be brave and we achieved that."
Brighton manager Oscar Garcia admitted that his side's first half display was as bad as they had played this season.
"We only played 55 minutes in this game," said the Spaniard. "But we did get a reaction in the second half and had chances for further goals.
"The problem was we started very slowly. We wanted to start well, but Barnsley kept the ball pretty well, and if we don't have the ball we're not comfortable.
"It's a tough league and there are no easy games, all the players are really disappointed at how we played.
"We must try and improve and understand why we played the way we did in the disappointing first half.
"We need to improve so we are better at the start of the second half. We need to be more focused at that time."