Orient Express
Our Football League Spotlights return with Leyton Orient's Scott Cuthbert discussing a perfect start.
Last Updated: 19/12/13 4:50pm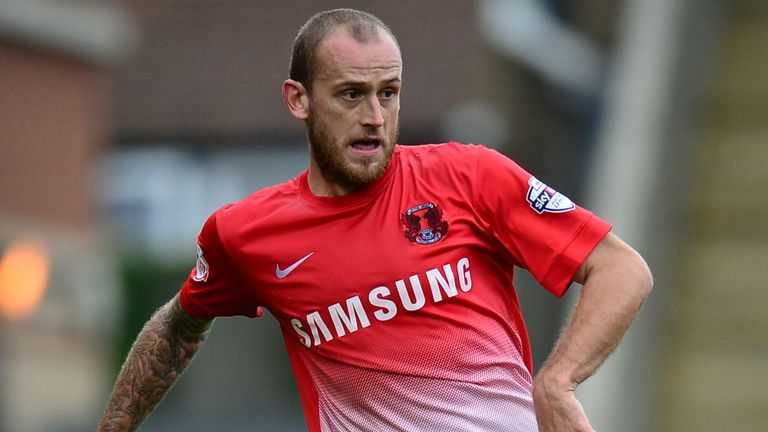 The new season is upon us, with the 2013/14 campaign starting to take shape.
Here at Sky Sports we will look to take you to the very heart of the Football League over the coming months, with our Spotlight features intended to give you a greater insight into the clubs and players that keep us on the edge of our seats.
We hope to bring you the views and thoughts of a representative from each of the 72 teams over the course of the season, with those involved asked to give their take on the division they compete in, the club that pays their wages and those we should all be keeping an eye on.
Leyton Orient's Scott Cuthbert is first into the hot-seat, with the Scottish defender taking time out to discuss a perfect start and bouncing back from injury with Chris Burton.
Did you believe in your wildest dreams that things would start quite so well this season?
I think we were all positive after the way last season ended, the form we were in. We got off to a good start but I think seven in a row might have been a bit too farfetched. It's unbelievable what a bit of belief and a bit of team spirit can do.
Like you say, you finished seventh last season so it hasn't come from nowhere. Has it helped that most of the talk over the summer focused on other sides, allowing you to slip under the radar?
I think so. That was always going to be the case when you have got teams the size of Wolves, Bristol City, teams like Peterborough, who always dominate this league. That was always going to be the case, but we were quite happy with that. We were just taking each game as it came. We know we have got talented players and, like I said before, we've got a good team spirit. We believed in ourselves and people shouldn't write us off.
It's all about momentum now isn't it, with you believing you can win every time you take to the field?
That's what the gaffer says after every game, 'We've kept the momentum going'. As long as we can keep doing that and keep putting in positive performances, that's all we can do. We will just keep taking each game as it comes. Obviously we have got Brentford away on Monday in front of the cameras, that should be a good game - a nice London derby and that will hopefully keep the momentum going.
I imagine you are taking great pride as players aren't you that you boast the only 100 per cent record in the top four divisions, the most goals scored and the best defensive record in the league?
It's different class. I think we have got the least conceded goals - which is great for the goalkeeper and the defence. We have also had the most goals scored - which is great for the attackers and the attacking midfielders. We are also sat top of the league, so everyone can take a little bit out of it and some encouragement and confidence, which is great. I think you can tell everyday on the training ground and every time we go to play a game that confidence is flowing through the team.
You have been mixing things up as well haven't you - edging out some teams and blowing away others?
Each game is different, that's the thing. We went to Stevenage, I think it was a couple of games into the season, and they beat us last year and we know what they are like - they are so strong, they are so direct and you have to grind them out. We got a goal first-half and we held on to that. Like you said we played Notts County and some of the goals were fantastic, so we have managed to mix it up a bit this year and I think that's one of our strengths - noticing how we are going to have to go about certain games. I suppose that's the manager's strength as well - he's noticed that and has set his teams out to change and play different styles. We have managed to put in some very decent performances and some very different performances as well.
You're in your third season now at Orient, is this the strongest squad you have been involved with?
This is the strongest squad I have been involved in since I came down south - even the Swindon squad I was involved in that got to the play-offs. I think there are some really talented players and some older players - Kevin Lisbie, Dave Mooney and Nathan Clarke at the back. We have also got the young players coming through. Even the boys on the bench who haven't played in a lot of games, there is a lot of talent on that bench that is looking to get through. It is a really strong squad. A small squad, but there is a lot of quality in it.
It's about keeping your feet on the ground now, but how long does it take for thoughts of a possible promotion push to creep in?
Everyone is trying to keep our feet on the ground. We are taking each game as it comes. It is only seven games into the season, there is a long way to go. But as each game goes by, after each win, there is that little bit more belief. It's important we keep our feet on the ground because there are a lot of good teams still to play - we have got Brentford on Monday, teams like Wolves, Peterborough, even Coventry and Bristol City who are expecting to come good at some point. We have got a lot of hard games coming up.
You mentioned that you've got Brentford on Monday - that's a tough test isn't it but it's on Sky and is a great opportunity for you to show the rest of the country what you are all about?
It's great, especially against a rival. Brentford just missed out on promotion last season, so they are a really strong League One side. I would say that it is probably going to be our toughest test, especially after seven wins. Maybe for the first time we will be favourites going into that. It will be nice to test ourselves against one of the better sides in the league.
I bet you wish you didn't have to wait until Monday though don't you?
That's the thing. We would have liked it to be Saturday, but it's fine. We have got an extra few days for the boys to get some massages in, a few days off for the lads and get ready for Monday.
On a personal note, I take it you are delighted with how the season has started given how the last one ended?
The whole of last season for me was a bit of a write-off. I missed four months at the start of the season with my hamstring and then I got back in the team and then broke my foot. To miss the last six or seven games was so disappointing. From a personal point of view I'm delighted to be back in the team, to be part of this team is different class. I'm thankful that I've stayed fit so far.
You landed the new contract at the end of last season, has that allowed you to play with freedom and really express yourself?
That's it. I think it's the way the manager is and the coaches are, they want to keep that pressure on you and want you to go out and express yourself. That's the way they have always been at this club, to be honest. I think there is a real togetherness. There is no pressure put on the players. The young boys can come into the team and express themselves as well. You see the way Moses Odubajo has been playing in the last six months has just been unbelievable. There is a great feeling about the place and hopefully that's something that will continue because it's been a real positive for the club.