Champ challenge
Bournemouth's Matt Ritchie discusses stepping up a level as an individual and as a collective.
Last Updated: 28/11/13 6:33pm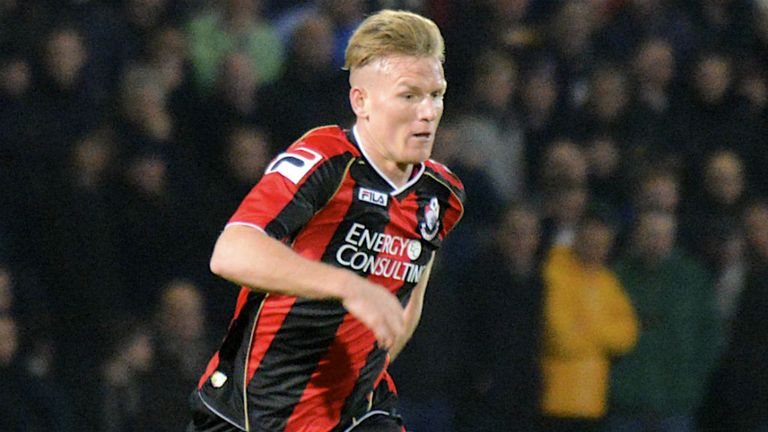 The 2013/14 campaign is now well under way, with divisions beginning to take shape.
Here at Sky Sports we will look to take you to the very heart of the Sky Bet Football League over the coming months, with our Spotlight features intended to give you a greater insight into the clubs and players that keep us on the edge of our seats.
We hope to bring you the views and thoughts of a representative from each of the 72 teams over the course of the season, with those involved asked to give their take on the division they compete in, the club that pays their wages and those we should all be keeping an eye on.
Bournemouth's Matt Ritchie is next into the hot-seat, with the Cherries midfielder taking time out to discuss stepping up a level as an individual and as a collective with Chris Burton.
I imagine there was a sense of relief on your part at the weekend wasn't there that you managed to get yourself back out there and get a first appearance of the season under your belt?
It was good. It's been a long time. I have been out for a while and it's been tough, but I have had a lot of support from people at the club. It was a relief to get on the pitch and be involved in a match because I'd been out for so long.
Was it all the more frustrating because you picked up an injury in pre-season - you were sidelined before you'd even got going?
Exactly. Obviously it was a big season as well, I want to prove myself in the Championship. New club as well, I had only been at Bournemouth for three or four months before that. It was frustrating. I worked hard in the summer, got fit and then in the first pre-season game I pulled my thigh. It was a tough one, but that's football and you have to deal with these things when they come along. I have had to deal with it the best I can and hopefully I am fit now and can stay fit for the rest of the season and try to do my best for the team.
But I take it you will be treading carefully and not asking too much of yourself, too soon?
Definitely. Over the last few months we have had a few setbacks. I got back training, was training for a couple of days, and then another part of my thigh went and complicated things a little bit. This time I have been very careful. I'm not taking any risks. Hopefully, touch wood, there have been no setbacks so far so I'm looking to stay fit.
During your time out you were obviously keeping an eye on things - are you a calm spectator or do you kick every ball?
I kick every ball, to be honest. It's tough. I have never really had an injury. When I was 16 I broke my leg but other than that, I've been lucky. This is my first one, so mentally it's been tough watching the games. I'm not a very good spectator and I was itching to be out there and playing. But the lads have started brilliantly. I think we surprised a few people with how well we started. We've hit a little sticky patch now, but we're not panicking. We know we have got good quality and ability in the group and everyone believes, in and around the club, that we can compete at a Championship level.
You have gone five without a win, which has brought you back down to earth a bit, are you just regarding that as a blip?
Absolutely. We had a blip towards the end of last season, I think we got beat five on the bounce and we were chasing promotion. You can have a blip in any league and all of the top teams will have them, it's not only us. At the moment we are in a little bit of a sticky patch, but we have got good quality about the group and a good mentality at the club. I'm sure we'll pull ourselves out of it. Hopefully we can do that with three points on Saturday against Brighton.
Is there anything specific which needs to be worked on or is it just a case of doing the basics right and the results will come?
I don't think there is. We are working hard on training on things that the gaffer wants to improve on. The lads apply themselves every day to get better and learn so if we keep working the way we have been doing in the last couple of weeks, we'll be fine.
It doesn't get any easier, though, does it - Brighton at the weekend, followed by QPR and Reading?
It's a tough league and we have got some tough games coming up. But they are all tough in this league. If you look at this league now, 90 per cent of the clubs have the history and the finances to spend a lot of money. We need to be competing with them. I'm sure if we keep training the way we have been and apply ourselves the way we do, we'll be fine and will compete.
On a personal level, there is an expectation on yourself after what you've achieved in the last couple of years - is that something you embrace?
Definitely. Throughout my time at Swindon and since I have come here, for what was quite good money in League One, there was a pressure. But I feel I perform best under pressure and it is good to have it. Nobody puts more pressure on me than myself. I like to perform week in, week out and hopefully, if I can get back in the team and have a settled run, I can do that and perform consistently.
Have you surprised yourself with how well things have gone - back-to-back promotions and divisional Player of the Year awards in consecutive seasons?
The last couple of years have, obviously, been the highlight of my career so far. I have surprised myself. I was just a lad working hard at Portsmouth and got a move to Swindon to play games and it turned out quite well. That's in the past now, I have to look forward to the future. I have got a new challenge to establish myself as a Championship player and try to help Bournemouth establish themselves as a Championship club. That's my job now and is what I'm focusing on.
You had the taste of the top at Portsmouth and have worked your way back up the ladder - you're proof aren't you that taking a step back isn't always a bad thing?
A little bit. When I left Portsmouth I was a bit disappointed to go. You have seen quite a few players down the years go down a level or two to come back up and prove themselves. I was lucky, I went on loan to Dagenham & Redbridge - the manager there was brilliant - and Notts County and Swindon. I had a good run and played a lot of games at a young age and really enjoyed my time on loan at all of the clubs I have been at. I've been lucky, I've had some very good managers and I have all of those people to thank for where I am now. But I need to work on where I am now and try to get the best out of it.
And are you happy with where you are now - transfer speculation tends to follow you around?
I have only just moved to Bournemouth, and I'm happy at Bournemouth. We have got a great manager, a great set of lads, all young and willing to learn and looking to prove themselves as Championship players. The quality around the group that we have got, for a team that was promoted from League One, is outstanding. I think we can use that to our advantage and, hopefully, we can establish ourselves and have a good season - not just as a club, but as a team that can compete at Championship level and one that people don't want to play against.
Matt Ritchie was talking to Sky Sports on behalf of Sky Bet, the Title Sponsor of The Football League.
For a wide range of match odds and specials on all Football League matches and a £5 free bet every week, go to skybet.com.