Stuart Gray fears Sheffield Wednesday's clash with Bournemouth could be off
Stuart Gray believes Sheffield Wednesday's home game against Bournemouth could also fall victim to the weather.
Last Updated: 19/12/13 1:14pm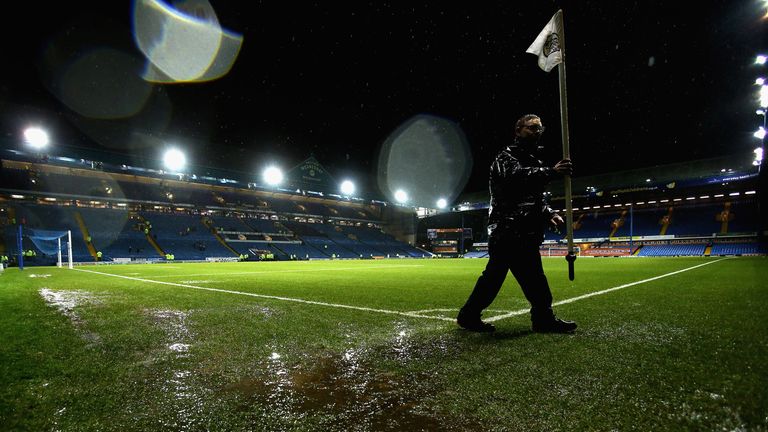 Referee Keith Stroud called a halt to proceedings in the 59th minute with Wigan leading 1-0 after torrential rain left the waterlogged Hillsborough pitch unplayable.
More heavy downpours have been forecast over the next few days and Gray feels the playing surface is at the mercy of the weather.
"Well obviously the groundstaff have got their work cut out," said Gray after seeing his side outplayed by Wigan, who should have scored comfortably more than James McClean's solitary first-half opener.
"They will be out there now divoting and prodding. If this weather continues...
"In the warm-up the ball was just sticking a little bit and you think if there is a deluge the ball's just not going to run smoothly.
"They (Wigan) adapted to the conditions better than we did. Hopefully the groundstaff will get the pitch right, we'll have a bit of dry weather and we go again against Bournemouth on Saturday."
Gray was taking charge of his fourth game following the sacking of Dave Jones earlier this month, but after wins over Leicester and Watford was left unimpressed by his players.
"It was a 'get out of jail card free' for us," Gray added. "I was disappointed with our first-half performance.
"Our midfield didn't get going, our two centre-halves didn't really get going.
"Our midfield were making poor decisions. When they had time to bring it down they were helping it on and when they didn't have time they were getting closed down.
"Wigan were on the front foot, closed us down and forced errors, got in our faces and we didn't adapt or cope with it."