FA Cup: Tommy Elphick recalls Real Madrid friendly ahead of match against Liverpool
Bournemouth captain Tommy Elphick says the pre-season game against Real Madrid can help the club against Liverpool.
Last Updated: 25/01/14 12:42pm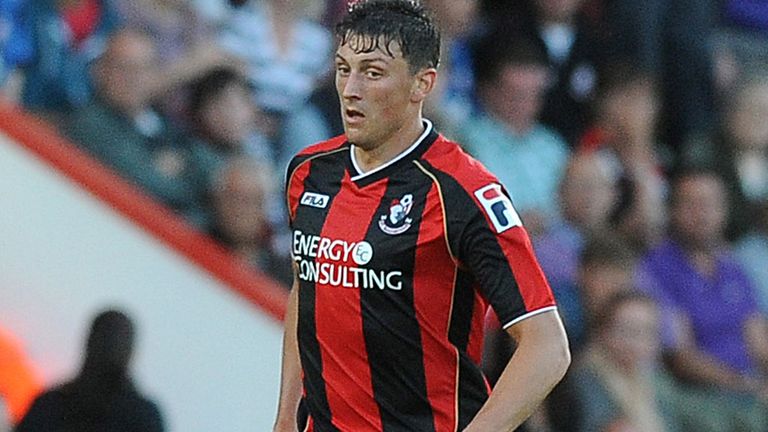 The Reds visit the Goldsands Stadium as heavy favourites to progress as they go in search of their eighth FA Cup success and a maiden trophy under manager Brendan Rodgers.
But Elphick, who played in the pre-season friendly against Madrid as the Spanish giants triumphed 6-0 in front of a capacity crowd on the south coast, is hoping any lessons from that day can be transferred into the Liverpool match.
"I think just the buzz around that game has helped to prepare us," he said.
"It's very similar, with the press calls and people queuing for tickets and stuff.
"Obviously on the day we didn't give as good a show against Real Madrid as we would have liked, but it was early in pre-season and they were a bit better fine-tuned than us, so hopefully we can put a better show on against Liverpool on Saturday."
The 26-year-old Elphick, a boyhood Liverpool fan, was marking recent Ballon d'Or winner Ronaldo back in the summer and will look to benefit from such an experience as he looks to keep Luis Suarez quiet this weekend.
"Ronaldo was all right," he said.
"He came off at half-time and scored a free-kick and he scored a goal that came from my mistake.
"But it stands you in good stead. These players have an aura and a presence about them and I think that's prepared us well for this game.
"He (Suarez) is one of the best three players in the world in my opinion, at the moment, and we're lucky to have him in England. To be on the same pitch as him will be a privilege.
"I think a lot of bad press gets with Luis Suarez and that's due to his love of the game and his will to win."
Bournemouth currently sit 16th in the Sky Bet Championship, losing just one of their last six games.
They beat Burton in a rearranged third-round tie to set up the showcase tie with Liverpool and Elphick admits focus has not purely been on Suarez as Howe prepares a team he believes can beat Rodgers' side.
"We don't know what team they're going to play," said Elphick.
"They changed it up a bit in the last round. There are players like (Iago) Aspas who we're not so aware of, so there's even more preparation that's got to go into this game."
"We leave no stone unturned, whether it's Burton or Liverpool - and that's no disrespect to Burton. The manager's a deep thinker and he's given us a lot of advice and top tips as to how to stop Liverpool, as well as Luis Suarez.
"I think we were lucky with the last round against Burton - the draw was made before we played Burton, so I think there was a bit of added spice in that game. It changed it up a little bit.
"No one wants to miss out playing against Luis Suarez and Steven Gerrard, so there has been a little bit of an edge.
"If you detract too much from what we've got to do then things go wrong.
"We've got a very grounded squad - we're young and progressive and we've been through a lot in the last few years. All the lessons we've learnt have to be put into practice."