Manager Phil Parkinson says Capital One Cup semi can show Bradford are on rise
Manager Phil Parkinson says Bradford's Capital One Cup semi-final with Aston Villa can show they are a team on the rise.
Last Updated: 08/01/13 7:10pm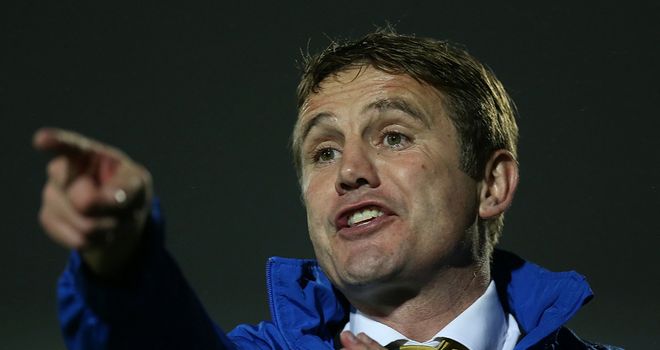 A month ago the 110-year-old League Two club club stunned Arsenal in a penalty shoot-out triumph in the quarter-finals to give their beleaguered fans something to cheer about.
And with another Premier League side awaiting at home in the the first of two televised semi-final legs bringing in over £1m, Parkinson said: "It's a big club, a sleeping giant and we're trying to reawaken it.
"It's really important for us. The win against Arsenal certainly reminded everybody that Bradford City is up and running and starting to get going again. Another really good performance on Tuesday night would be great for the city again."
It has been a torturous 13 years since the Bantams escaped relegation on the final day of the 1999/2000 season to survive a second campaign in the top-flight following a famous 1-0 home win over Liverpool.
A double relegation and sliding into administration twice - all in seven years -shattered the club, but prospects are now looking rosy for Parkinson, installed as Peter Jackson's permanent successor in the summer of 2011.
But for a 2-0 defeat at Barnet at the weekend, they would be sitting in a play-off position. Parkinson added: "The lads have been good. Obviously we lost on Saturday, but it was a performance where the lads gave everything, they just couldn't put the ball in the back of the net.
"We had a lot of chances, so I couldn't say that our focus was distracted at any point. We would have loved to have come into this game with three points from Saturday.
"Unfortunately we didn't, but we can't let that detract from Tuesday, or change the way we approach it because I want the lads to enjoy it, relish it.
"We've won a lot of games, there's been a lot of extra times and we've overcome a lot of challenges to get to this point.
"We're very excited. We've worked really hard to get to this stage and we're going to enjoy it. It's a tremendous achievement by everybody at the club. It's the first time in the club's history to be at this stage of the competition.
"It's going to be a tough challenge, but our aim is to get to the second leg in two weeks' time still in the game."
Parkinson accepts a two-legged tie favours Paul Lambert's Villa, but knows what it takes to beat Premier League opposition.
"We've just shown the lads some footage from the Arsenal game, to remind them of the discipline and the shape of the team and how well we worked as a unit in that game," he said.
"But also, when we won the ball back we played with a calmness and that's important because we know that if you keep giving Premier League teams the ball back, it becomes a long night.
"We've got to be up for the game, committed, we've got to use the crowd to take us on to another level, but also we've got to play with that composure and calmness in possession.
"The lads have shown that they can compete against the best teams, we also know we have to be right at our best and Aston Villa will have to be well below par for us to progress, but anything can be achieved and we've got a group of lads who are going to relish the challenge."