Capital One Cup: Bradford chairman Mark Lawn ready for 'final' at Aston Villa
Bradford chairman Mark Lawn is ready for unbearable tension at Aston Villa in the Capital One Cup semi-final second leg.
Last Updated: 22/01/13 8:47am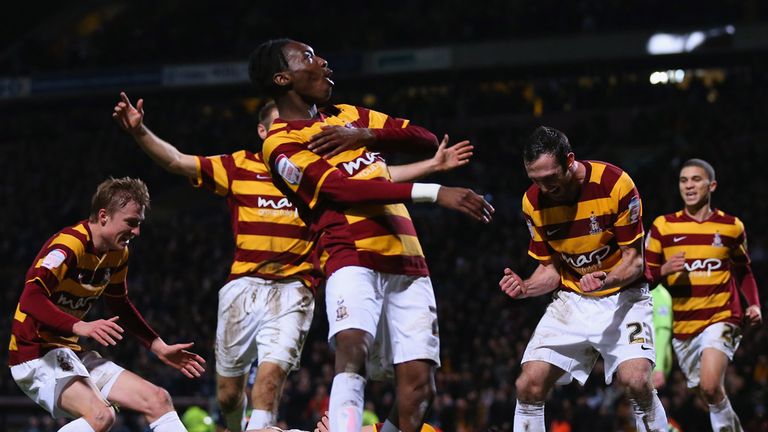 The Bantams, who will defend a 3-1 first-leg lead, stand on the threshold of another historic victory, one game away from becoming the first club in the bottom tier of English football to reach Wembley in a major cup final.
Lawn's nerves have had plenty of practice since Phil Parkinson's League Two side embarked on the greatest giantkilling run in modern times, with famous victories over Wigan, Arsenal and Villa, but the 52-year-old is set for another rollercoaster ride of emotion.
"My heart says extra time and we win on penalties," he told Press Association Sport.
"I just know we're not going to do it the easy way, they'll put me through the wringer and I'm ready for it."
Rarely does a club from the lower divisions capture the country's imagination in a cup competition in the manner Bradford have done this season, and if Lawn's hunch proves correct and the tie does head for penalties, Parkinson's boys should not flinch.
They are already the shootout kings of British football, winning their ninth successive spot-kick showdown when defeating Arsenal 3-2 in the quarter-finals.
"It's been incredible," Lawn said. "You've got to look at where we've come from, where we are in the league. The effort has been amazing.
"The backroom staff and the cleaning ladies down at the training ground, I'd like to say a big thank you from the fans and the club.
"It's been beyond our wildest dreams. A very close friend of mine who sat next to me in the first leg said the return at Villa Park is our Wembley final.
"That's the way I'll be approaching it. My head says anything else is a bonus."
Bradford's only major honour was achieved back in 1911, when they beat Newcastle 1-0 in an FA Cup final replay at Old Trafford after a goalless draw at Crystal Palace.
Should the impossible be made possible at Villa Park tomorrow, it will be the club's second Wembley appearance in its 110-year history after Chris Kamara, more famous for his Sky Sports punditry, led them to an old Second Division play-off final win against Notts County in 1996.
Eager to keep it all in perspective, Lawn said: "That was the old Wembley. It would be the club's first trip to the new Wembley.
"It would also be the first time a club from the fourth division, or whatever you want to call it, have ever reached Wembley in a cup final.
"Rochdale got to the League Cup final back in 1962, they actually lost to Aston Villa, but the final then was played at home and away."
But for all the romance and the spotlight the club has enjoyed in recent weeks, Lawn concurs with his manager Parkinson's assertion that the season will end in disappointment if they do not win promotion in May.
"The cup run has definitely started something. Hopefully we can build on this because the most important thing is the league," he said.
The Bantams have lost their last two league games and have slipped out of the play-offs, but still remain just five points adrift of an automatic promotion spot with a game in hand.
"Phil won't let the season hang on this one match," Lawn said. "He's too sensible a manager.
"His man-management is first-class, the players know what this season is all about and I'm sure he won't let that happen."