Dean Saunders applauded Bradford on a 'disastrous' night for Aston Villa
Dean Saunders hailed an inspiring win for Bradford, but a "disastrous" night for Aston Villa.
Last Updated: 23/01/13 10:08am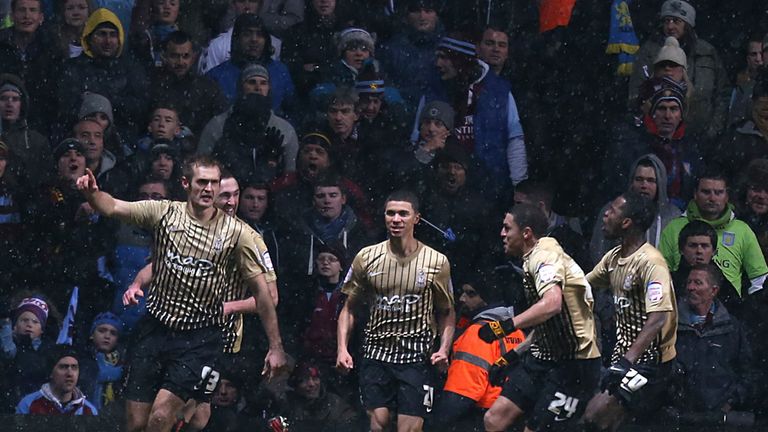 Phil Parkinson's men are celebrating one of the greatest achievements in the club's history after becoming the first fourth-tier side to reach a major domestic cup final since 1962, following their stunning Capital One Cup semi-final victory over Aston Villa.
Saunders played for the Bantams in their Premier League days at the turn of the century, but since their relegation in 2001 they have plummeted through the leagues and entered administration twice.
But they will travel to Wembley for a Wembley Cup Final and a potential £1million windfall next month - and Saunders believes their story is an inspiring one.
"I'm really pleased for Bradford," he told Sky Sports.
"They've been in administration twice and probably the last time they cheered was the game against Liverpool when we had to win to stay up and Liverpool had to win to go into Europe. That's probably the last happy day they've had.
"It's been downhill for the last 10 years, but you have to say there's still 10,000 people going to their games in League Two and they do deals to get the kids in.
"It's an example to all those clubs that have fallen on hard times; even those that have dropped into the Conference.
"If you keep going, something like that can happen to you. Now that should sort the club out for the next 20 years with the money they are going to make."
Errors
Saunders also played for Aston Villa between 1992 and 1995 and admits the semi-final exit is a "disaster" for the struggling Premier League club.
Three of Villa's starting back four were aged 23 or younger on Tuesday night and Saunders felt the four goals Bradford scored across the two legs were due to individual errors made by the inexperienced players.
"I don't know what Paul Lambert can do; I feel sorry for him," said Saunders.
"That's a semi-final, there was a massive crowd and he knows he's got young lads in the team and they're learning the game, especially at the back.
"When you put young strikers in you can get away with it, but you're putting young defenders in who have never played in a game like this. The Bradford players are more experienced, probably, than the Villa players.
"He set them up and the only way they learn is by making mistakes and they keep making mistakes every week because there's a bunch of young lads together.
"Normally you'd go in with experienced players. A few young lads playing with experienced players and you'd get away with it, but they're all in it together.
"It's a disaster for Villa; it's a massive club, their season has gone pear-shaped and they're fighting to stay in the Premier League.
"This was the relief they could have got, the catalyst to push them on. If they'd got to the final, the fans would probably have taken their foot off the gas and thought they could turn it around and go to Wembley.
"That's a disaster tonight for them."