From stacking shelves to Wembley
James Hanson was stacking shelves in the Co-op as little as three and a half years ago but on Tuesday he headed the goal which made history.
Last Updated: 24/01/13 9:10am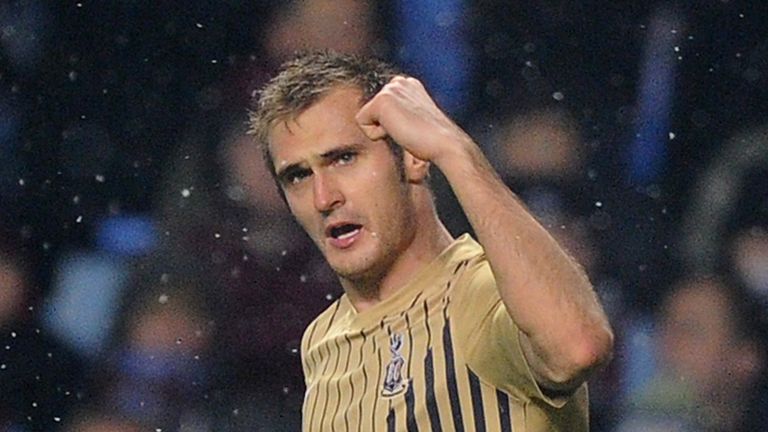 James Hanson was stacking shelves in the Co-op as little as three and a half years ago but on Tuesday he headed the goal which made history.
The 25-year-old levelled matters early in the second half of Tuesday night's Capital One Cup semi-final second leg at Aston Villa and although the hosts went on to triumph 2-1, it was Hanson's crucial goal which ensured Bradford City progressed 4-3 on aggregate.
In turn, Bradford became the first fourth tier team to reach a major cup final at Wembley as they clinched a place in their first showpiece final since 1911.
Yet it could so easily have been a different story for 6ft 4in Bradford-born striker Hanson, who admits he had almost given up on playing on the big stage when he was pacing the aisles of his nearby Co-operative supermarket not that long ago.
"Three years ago I was working in the Co-op while playing non-league for Guiseley, so it's days like this why you want to be a professional. Thankfully all the hard work I've put in has been amazing," Hanson said.
"I think I was just enjoying playing non-league and scoring goals. You get paid quite good money and I was working as well, it was quite a good lifestyle.
"But you always want to play as high as you can and thankfully Stuart McCall (then manager) at Bradford gave me a chance and I've not looked back since.
"It just shows if you keep working hard then anything can happen. To score a goal to take us to Wembley is unbelievable."
However Hanson, who overcame a broken toe to start at Villa Park, might not be seen in store today as he picks up the newspapers to read about Bradford's success.
"I still go in and show my face because it's my local one. I try to go to Morrisons (though) because it's quite expensive there," he joked.
Bradford captain Gary Jones provided the inswinging corner from which Hanson lost his marker, Ron Vlaar, to head home from close range.
Jones held back tears of joy at the full-time whistle as he celebrated the West Yorkshire club's incredible achievement with their 6,500 travelling fans.
The 35-year-old can look forward to a trip to Las Vegas at the end of the season after Bradford co-chairman Gary Lawn promised to reward his players' efforts.
But first up will be the eagerly-anticipated final on February 24 against either Swansea or Chelsea.
"A fourth tier team getting to Wembley is quite incredible," Jones said.
"To beat three Premier League teams along the way, and to beat Aston Villa over two legs, words can't describe it.
"You've got to dream about winning it, why not? Who would have expected us to have come this far?"
The skipper added: "I was emotional at the full-time whistle because things like this don't happen every day. It'll probably never happen ever again in this competition.
"We've got to savour the moment and then we've got a league game on Saturday, Wycombe at home! It's a bit of a come down."