Parkinson sets priorities
Bradford City manager Phil Parkinson and his players appear to be at odds over which is the npower League Two club's priority ahead of this weekend's Capital One Cup final at Wembley. Win promotion or fulfil the impossible dream.
Last Updated: 22/02/13 10:41am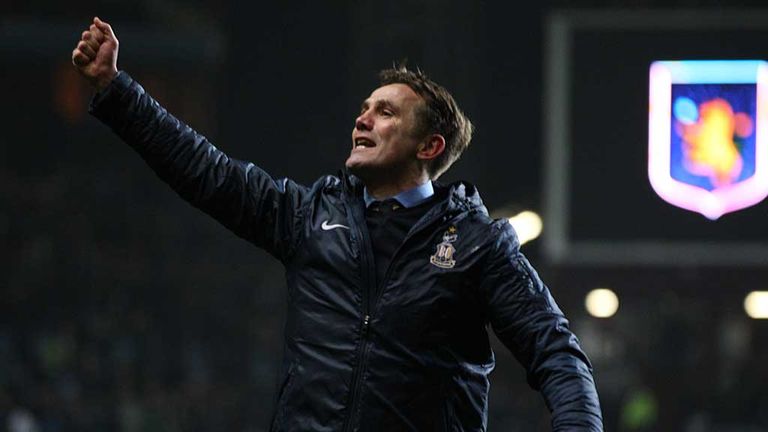 The Bantams will create history on Sunday against Barclays Premier League side Swansea when they become the first team from the bottom division to appear at Wembley in a major cup final and either someone has forgotten the script or there is some major psychology at work.
Parkinson's side have already confounded the football world and beyond with a remarkable series of results. Victories over Notts County, Watford, Burton, Wigan, Arsenal and Aston Villa sweeping them to within one game of a place in Europe.
But when joint-chairmen Julian Rhodes and Mark Lawn backed Parkinson in the transfer market last summer it was with promotion in mind, not Wembley.
Bradford, the lowest-ranked of any former Premier League club, are seven points adrift of the play-offs and have 15 games left to make up an 11-point gap on an automatic promotion place. If they fail they will spend a seventh successive season in League Two.
This week, wingers Garry Thompson and Zavon Hines, plus defenders Stephen Darby and Rory McArdle all said they would swap this weekend's fairytale cup final for a guaranteed place in League One next season. But Parkinson would not have it any other way.
"All along the league has been our priority and I can't hide away from that," said the 45-year-old former Colchester, Hull and Charlton manager. "But obviously now getting to the final, we've got a chance to be involved in something major, of getting to Europe.
"If someone said to us we could win the cup or go up we'd have to take winning the cup because for a League Two club to win the cup, we've made history so far, but that would be truly amazing if we could pull it off."
His players stop short of conceding they have taken their eye off the ball in recent defeats to Rochdale, Barnet and last week AFC Wimbledon.
But Parkinson said: "If you go back through history the clubs from the lower divisions who have had good runs in cup competitions find it has a detrimental affect on their league form.
"That has happened to us since the Arsenal game when our form has dipped.
"But I'm convinced about the ability of these players and even after Sunday we still have 15 big games left and we intend to attack each one with a positive mind and have a real good go and we'll see where that takes us."
Equally, Parkinson is aware his side's Capital One Cup feats are unlikely to be matched for generations and he is determined to savour the moment.
"We've got to enjoy the build-up haven't we?" he said. "It's quite unique for a team from the bottom division to get to a major cup final, so we've got to enjoy it, but we'll only truly enjoy the day if we play well.
"If we play at our absolute best that might not be good enough to win, but my job, (assistant) Steve Parkin's and the rest of the staff have to work with the team this week physically, tactically and mentally and make sure we're ready to put in our best performance.
"If we do that I'll be a very proud man."
Parkinson also takes pride in the legacy of his side's cup run and the financial benefits that will befall the West Yorkshire club.
"The chairman of the football club has cleared the debt over the last few years and done a great job," he added. "But now it's their job and my job, to make sure this extra revenue is used to keep improving the structure of the club and make sure our supporters have got a football club in years to come which is going to flourish.
"That is really important. We're all going to enjoy this weekend and on the back of it, it does give us revenue that in our wildest dreams we would not have expected to make.
"So we're going to have to use that very wisely and I'm sure Julian and Mark will. They're very good at that. We've got to make sure we build for the future."