Celebrations of Bradford's Capital One Cup run postponed until end of season
Celebrations of Bradford's Capital One Cup run in the city have been postponed until the end of the season.
Last Updated: 25/02/13 12:38pm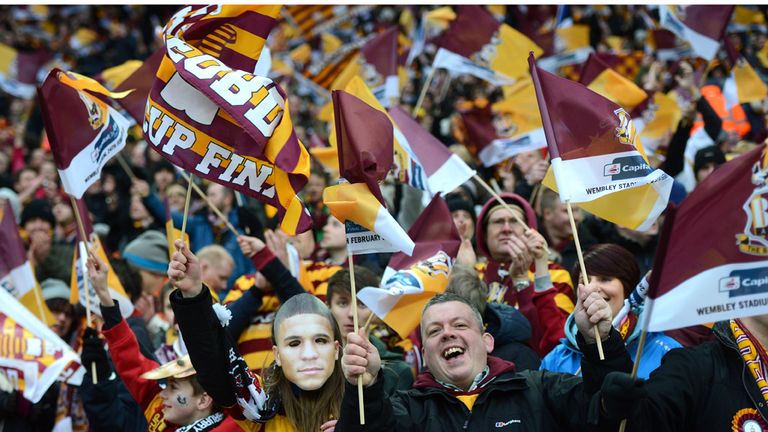 Phil Parkinson's side were beaten 5-0 by Swansea in Sunday's Wembley final and, although there was no fairytale ending to their giant-killing campaign, the League Two club have been promised an open-top bus parade and civic reception.
But the Bantams now have to focus their preparations towards Wednesday's League Two game against Dagenham at Valley Parade as they continue their quest for promotion.
Bradford Lord Mayor Dale Smith said: "Any celebration is on hold at the moment at the club's request until they've got the next challenge out of the way.
"They've got two very important league matches coming up this week and we think we're going to hold it, with the club's agreement, at the end of the season so that Phil and his side can concentrate on the league.
"There are plans afoot. The city will expect a celebration certainly. What the club have achieved throughout the season has been nothing short of sensational and the council will extend a full civic celebration.
"They have had some amazing results in the Capital One Cup and while the fans were disappointed at the outcome, Swansea are clearly a very talented Premier League side and played better than us on the day.
"But the spirit of Bradford's fans was a real feature. The bigger the challenge became, the more they cheered and waved their flags. I was proud to be among them. It was wonderful.
"I would expect an open-top bus parade would be a fitting way to mark their incredible achievements. We're just waiting for the season to end, hopefully on a high, and for the sunshine to come and we'll start waving those flags again."
Bradford, who were the first club from the fourth tier to reach a major final at Wembley following wins over Premier League sides Wigan, Arsenal and Aston Villa, are eight points off the play-off places with two games in hand.