Some season
Bradford's Nahki Wells discusses play-off bids, cup adventures and future hopes with Chris Burton.
Last Updated: 27/05/13 11:53am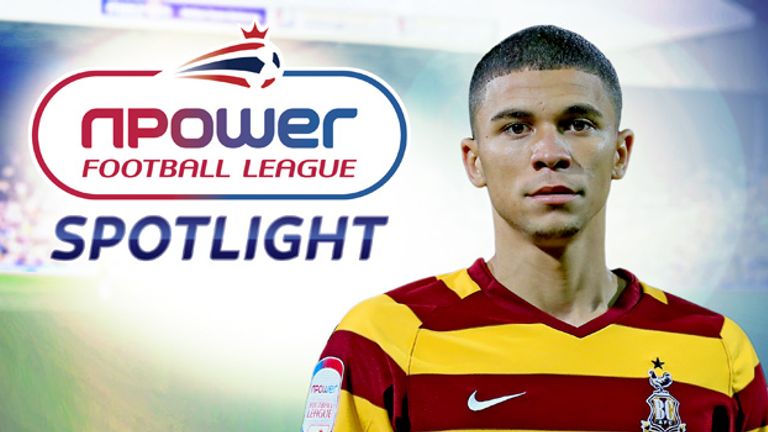 The 2012/13 campaign has entered the final straight, with promotion pushes and relegation battles now in full swing.
Here at Sky Sports, we continue to take you to the very heart of the Football League, with our Spotlight features intended to give you a greater insight into the clubs and players that keep us on the edge of our seats.
We are hoping to bring you the views and thoughts of a representative from each of the 72 teams over the course of the season, with those involved asked to give their take on the division they compete in, the club that pays their wages and those we should all be keeping an eye on.
Next in our hot seat is Bradford's Nahki Wells, with the highly-rated forward taking time out to discuss play-off hopes, cup adventures and future ambitions with Chris Burton.
You've got yourselves into the play-off spots, what's it going to take to stay there - are you thinking you might have to win your last two games?
I don't want to worry about the others. It's going to be a tough ask, we've got two tough games. Saturday's game is going to be a very important one. It is a possibility that we can get in the play-offs and solidify ourselves on Saturday. We know it's a big ask. There are other teams around us knocking on the door, but hopefully four points could see us get in.
You've got Burton and Cheltenham to come, they are huge games for you and for them aren't they?
It's come down to us all fighting for points. I think nothing will be resolved until the last game, so all three of us have a lot to play for. It's two huge games, but it's good to be involved in these rather than being involved in a relegation battle or nothing at all.
You must be delighted with the response you have offered since the cup final - only two defeats in 14?
We would have liked to pick up a lot more points right after the cup final, we kept drawing games. We had a bit of a dip in form from certain players, including myself - I had a bit of a spell where I didn't score many goals. But we weren't losing games, which is important, and we were picking up points. We got back to the form that we showed earlier on in the season and picked up three consecutive wins. In the last two games we have been unlucky not to come away with six points, to be honest.
It could have gone the other way couldn't it, your season could have fallen apart after Wembley?
It so easily could have gone that way. A lot of people probably expected it to - six to eight games after, when we hadn't really won. The manager knew he had the players to do it, it just took one result to get us going. I think it just spurred everyone on - the manager, the players, the fans, and the city as a whole. We showed that we had the capability, that we should be higher than where we are. We are where we are because of ourselves and being in the play-offs is a big buzz and offers big hope for what we can still possibly do.
Are you in a position now where you can look back fondly on the cup final, because it didn't go as planned did it for you or the club?
I definitely can now. It was a hard day to accept but, at the end of the day, you have to understand the task put in front of us was always going to be a tough task. If you asked people prior to the game what was their prediction, they probably would have predicted a comfortable win for Swansea. It was always a very tough game ahead of us and it didn't work out the way we wanted - especially for myself. I wanted to really give it a go playing against the top boys on a very big stage, but unfortunately I wasn't able to impact and express myself as much as I hoped to. But it was a chance of a lifetime and hopefully I can say that isn't the last time I will play in a major cup final, or have been to Wembley. Hopefully I can say later on in life that I have been back and won, or have been back to Wembley in the same season. There are still so many positives to take. I am still young in my career and the opportunity was just unbelievable and I wouldn't change it for anything.
You can all be so proud of your efforts can't you, because there probably won't be another League Two team do what you did any time soon?
I think the way football is now, how vital every competition is, I don't think it will ever happen again. The manner in which some clubs are now having to go for certain competitions, you don't expect a League Two side to be beating Premiership sides that are putting out full squads. We did that throughout the competition. I don't feel big-headed by saying this, but I don't think it will happen again.
It raised expectations didn't it, the cup run, and people will think that Bradford should be getting promoted if they can beat Premier League teams, but it hasn't worked like that?
No, it hasn't. At the beginning of the season, people weren't expecting us to do what we have. Predictions and stuff, people didn't expect us to give it a good go. We have grown over the season. We've had ups and downs, but I see a bright light at the end of the tunnel. It's a big ask, but I don't say it in a biased way because I play for Bradford, but I think we are the best team in the league. We just haven't been able to show that consistency. We still have a chance to prove that and still have a chance of going up. We are confident that we have what it takes to get to Wembley and get promoted.
It's important that you put yourself in the mix isn't it - thinking about keeping players for next year, and the manager as well?
Definitely. We don't want to look too far ahead, but we have two crucial games. We will take it a game at a time. But we have a manager we all hope stays to help the team progress - both ourselves and the club. We are contracted players and - I believe I will be here next season - I have to give the manager credit for what he has done in my career. I hope that what we can achieve will solidify his position and he'll definitely stay. If we can get promoted, we will do whatever it takes. Hopefully he will be at Bradford for a longer period.
For you, what have the last 12 months been like - you've scored 22 goals this season and everyone is talking about you?
It's crazy in football. You have your ups and downs. I came into the game at 20, had a rough first year at Carlisle, then Bradford gave me an opportunity. In a matter of four or five months, my name was circulating around England. I set my sights on having a full season, a great season, and hoping that I could be in contention for being one of the best players in the league. It's happened to be that way. It's not something I didn't expect, because I have always had faith in my ability and was always willing to do whatever it takes to progress my career. I take it seriously and I want to play at the highest level one day. I understand that you have to start from the bottom sometimes. Not every player wants to play in League Two, but I have had the opportunity to play for a massive club and this season I have done well. I have scored 22 goals and I feel I haven't played as many minutes and made as many appearances as a lot of people would understand. I have come off the bench a lot, played half of matches and I have been able to rack up 22 goals. It feels as though I could easily have been at 30 right now, it's just I had a little dip in form where I wasn't being selected and wasn't playing as many minutes after Wembley up until a few weeks ago. There are still a few games left and I have reached that 20 mark, which a Bradford player hasn't done in many years, so it's a good step in the right direction - not only for myself, but for Bradford.
Are you just thinking the future will take care of itself? Are you trying to ignore the speculation?
Yeah, no doubt. I'm not trying to read the papers and see Nahki Wells is going here and there because that is a lot of speculation and I don't believe in that. I just believe in doing what I can for the club that owns me right now, and that's Bradford. I respect them for everything that they have done and I can't get too ahead of myself because it's still early on in my career. We all have this desire to push on in our career, but we have to do the job where we are. I'm happy to be able to play for Bradford, a massive club, with a massive fan base week in, week out. Hopefully this can be the stepping stone to somewhere bigger in the future. I just have to stay humble and keep doing what I'm doing. I can't take my foot off the gas and hopefully one day I can be playing where I want to.