Bradford 'will give manager Phil Parkinson money to spend' next season
Bradford's joint chairman Mark Lawn says funds will be available for manager Phil Parkinson to spend during the summer.
Last Updated: 19/05/13 4:02pm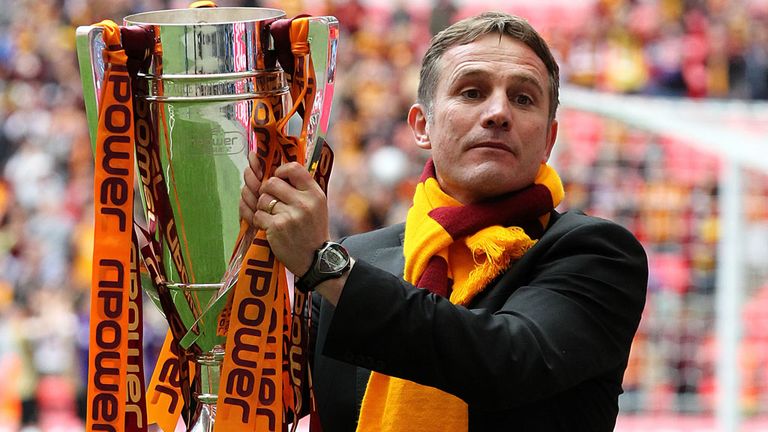 The Yorkshire club have just completed a successful season at Valley Parade that witnessed victories over Arsenal, Wigan and Aston Villa in the League Cup, plus two Wembley appearances, and ultimately promotion from League Two.
Bradford sealed their spot in the third tier of English football with a 3-0 victory over Northampton on Saturday.
Parkinson has verbally agreed a new deal but will only put pen to paper when assistant Steve Parkin and fitness coach Nick Allanby have completed talks over their new contracts.
Lawn, ambitious for more success next season, said: "We're just waiting to make sure all three are happy with their offers.
"I think they're great contracts but they want to sign them at the same time and I can't see it not happening.
"Next year we can have a good go at the play-offs again. If we sit down and give Phil and his staff the right backing and keep that great crowd behind us, then why not?
"In League One we think season ticket sales will improve and if we keep this momentum going, with our manager, we can have a good go.
"With more season-tickets sales, we would put all the revenue back into the squad and Phil knows that.
"He knows what he's getting with us. Every penny that this club makes, he will get. It will be put back into the club to allow him to keep building."