Manager Phil Parkinson has pledged his future to Bradford City
Bradford manager Phil Parkinson has signed a new three-year deal at the club.
Last Updated: 22/05/13 10:02pm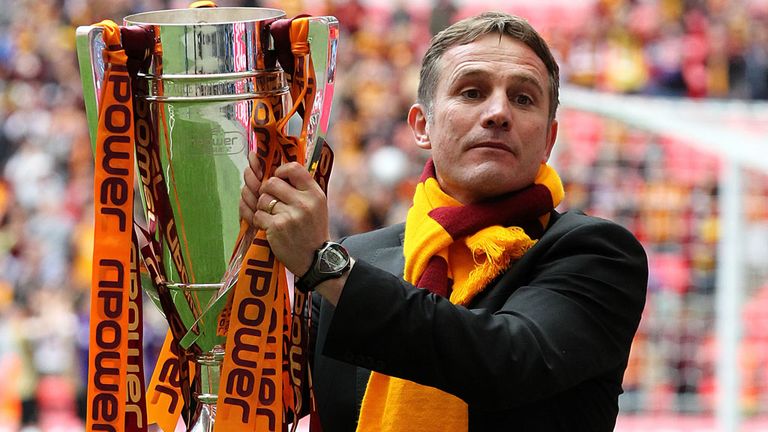 Parkinson guided the Bantams to promotion this season after orchestrating a League Two play-off final win over Northampton Town.
The 45-year-old has signed a three-year contract along with assistant manager Steve Parkin and head of sports science Nick Allamby.
Parkinson told the club's website: "I am very pleased to secure my place here - it is very important for the continuity of the football club.
"I had verbally agreed my contract a long time ago really, but didn't want anything to detract from our main focus throughout the play-offs, which was obviously to get promoted.
"Now that aim has been achieved, I was able to sit down with the two chairmen and get the contract all finalised.
"We've had a terrific season, but we know we have an important summer ahead of us now. We can't sit back on what we have achieved - we have to keep working and striving forward.
"Our aim now is to get a team on the pitch next year that our supporters will enjoy watching.
"There is a team behind our team out on the pitch, however, and it was important that I recognised that.
"That is why I always wanted Steve and Nick to get their contracts sorted, and that is why I am delighted they have both signed.
"Matt Barrass (head physio) is already under contract but we will be sitting down with him and trying to secure him for longer as well.
"Myself, Steve, Nick and Matt didn't know each other before we came here but we have worked well together. We have a good balance among the staff.
"When you get the good chemistry between a group, it is important to stay together."