Buoyant Bantams
Bradford winger Kyel Reid discusses feel-good factors and keeping things simple with Sky Sports.
Last Updated: 19/12/13 4:48pm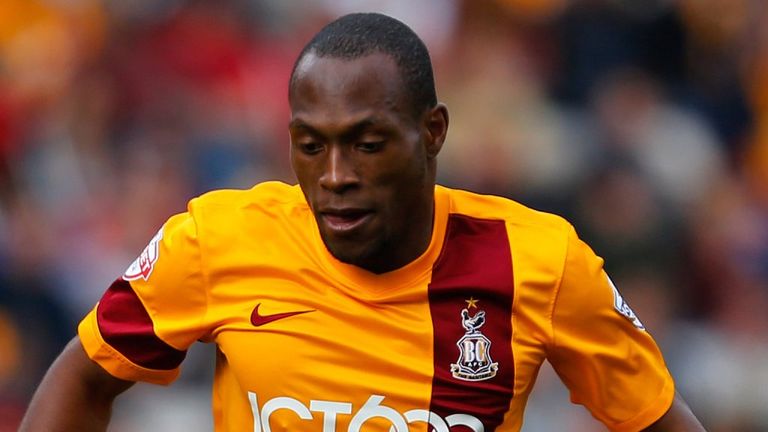 The 2013/14 campaign is now well under way, with divisions beginning to take shape.
Here at Sky Sports we will look to take you to the very heart of the Football League over the coming months, with our Spotlight features intended to give you a greater insight into the clubs and players that keep us on the edge of our seats.
We hope to bring you the views and thoughts of a representative from each of the 72 teams over the course of the season, with those involved asked to give their take on the division they compete in, the club that pays their wages and those we should all be keeping an eye on.
Bradford's Kyel Reid is next into the hot-seat, with the Bantams winger taking time out to discuss feel-good factors and keeping things simple with Chris Burton.
We're a third of the way through the season already, how would you sum up how it has gone so far?
I think it's gone brilliantly for us, to be honest. We couldn't have asked for a better start. Obviously to get promoted from League Two last season and come up and get involved on a new level is a new challenge for us as a squad. I think we have coped with it well. The last few games haven't gone as well as would have liked but, the position we are in the league, we are more than happy to see ourselves up there. We believe in ourselves that we are capable of competing and pushing on and hopefully getting out of this division as well.
You have to believe in your own ability, but have you exceeded expectations? Could you have imagined that things would go quite so well?
I always believed that we had a good squad here and that we could do well in this league. When you look at the games we played last season against the teams in this division and the divisions above, we showed that we can play and that we are a good squad. I always felt that we had that belief within ourselves and that we could compete against anybody.
As a squad, you have that feel-good factor after what happened last season - you must have come into this season absolutely flying didn't you?
Of course. It was a massive, massive achievement for us as players as well as the club in general. Bradford is a big club, it has a massive fan base, but they have been struggling in the last few years. Since the gaffer has come in, he has done a remarkable job with the squad he has got together. He's got that team spirit and that togetherness, we've gelled together. That was shown in the season we had last year, with the success, that we are a good team. If you look at games when we went a goal behind, we still showed that togetherness to come back and get something out of the game, whether that was a draw or a win.
Stability has helped hasn't it, because the squad hasn't changed too much from last season?
That's another thing that has probably helped us to do well. When you look at the team that has played so far, it is pretty much the same as the team that played in the Capital One Cup final. The last few weeks it has changed as Andrew Davies has been injured, then Nahki was out, and the gaffer had to change a few things. But I think there has only been one or two changes in the whole squad from last season and we've all pulled together. We all get on, there is no bitchiness or jealousy from any players in the squad. It's always good when you have got a group like that.
You've spoken about the spirit, you need that don't you because was there a feeling when you stepped up a league that you had to prove yourselves all over again and silence any doubters?
Of course. That's what we have been working on. Obviously the season that we had last year, there is no better way to go into the division above and attack it as best as we can. I believe that we have got a lot more to come this season to show everyone - the top teams in the division - that we can compete against them.
You've had a bit of a blip recently - no win in five in the league and out of the cups - Sunday is a big game now isn't it because you need to find that spark again?
It's a great game to go into because Coventry are in form. It's just a massive game for us to get ourselves back on track. The games that haven't gone so well for us, we just have to put them behind us and move forward and concentrate on the next one. There is probably no better game to be involved in - as it's live as well on the box. It's a good opportunity for us to put a marker out there to show everyone else that we haven't given up and we will find our form again. We want to stay in that top six.
Is there anything you need to change or is it just a case of sticking to the basics and doing what you have been doing?
That's what I think it is. I think we just need to get back to basics and keep level-headed and get it together. We need to just keep working on what got us that success and got us to where we are in the division. If we can do the basics well, then everything else will fall into place.
You're proof aren't you that you don't have to complicate things - 4-4-2, big man and little man up front, wingers and ball winners - it's not rocket science is it?
No, it's not. We have got pace on the wings and then we have got pace up front. We have then got the big man who wins his fair share of headers and puts himself about. I think they (James Hanson and Nahki Wells) have probably got one of the best partnerships in the division, to compete and keep the defence out of trouble.
On a personal level, are you happy with how things have gone so far?
Yeah, I'm more than happy. I had a tough start to the season, considering that I had the injury last season and then I came into this season and wasn't still 100 per cent sure. I just knew that I had to work hard behind the scenes in the gym with the physio to get that core strength back so that when I do get the chance to get back into the team, which I knew was only a matter of time, that I could keep my place and keep performing.
For you and the club, what represents a good season from here? Is top-half a good season or would you be disappointed not to make the top six now?
We have got to aim high. We are all ambitious and we all want the best. As a player you have to want the best and achieve the best. There would be no better way for us to end the season than in the top half and competing for the play-offs or automatic promotion. That's what we're going to aim for.
January could be important couldn't it - you might have to get a couple more in and make sure you don't lose the likes of Nahki?
Nahki has done well for us, he's got loads of goals already this season. It would be a massive loss if he was to leave. We could maybe strengthen up with one or two more, there are a couple of defenders who could come in and help us to build on the momentum we have got already and get us back to winning ways.
Whatever happens, Bradford are definitely a club on the rise aren't they? The tough times of the recent past are behind them?
Massively. If you look at when the gaffer first came in and the squad he had, there is a big difference between the two from then and now. And at that time he was fighting against relegation. Now, a few years later, we are in the play-off places in League One and pushing towards the Championship. We have just got to stick to our jobs and do the basics well.
Kyel Reid was talking to Sky Sports on behalf of Sky Bet, the Title Sponsor of The Football League.
For a wide range of match odds and specials on all Football League matches and a £5 free bet every week, go to skybet.com.