Peter Beagrie
Football League Expert & Columnist
Football League: Peter Beagrie on Coventry, Rotherham and Bolton
Peter Beagrie explains why, on the field at least, Coventry have plenty of reasons to be optimistic.
Last Updated: 28/08/13 12:41pm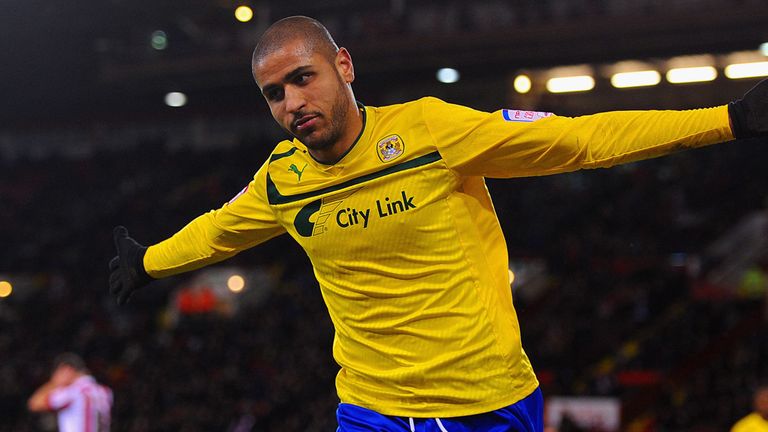 The former winger, who played over 770 games, representing clubs in all four tiers of the English footballing pyramid, including Manchester City, Everton, Bradford, Sheffield United, Scunthorpe, and Grimsby, forms part of the Sky Sports punditry team for all the big matches in the Championship, League One and League Two.
So if you have a poser for Peter, whether it's about your team, a player, match or incident that has caught your eye, or a wider point on the Football League, send it in.
Read below for this week's column where Beags gives his take on Coventry, Bolton, Brighton, Rotherham and more...
SCINTILLATING STUFF
How impressed have you been by Coventry's start to the season, considering their troubles? Steve
BEAGS SAYS: I have nothing but admiration for the way the Coventry team and management have responded to the negativity off the field with pure positivity on it. The Sky Blues are naïve at the back but prolific at the opposite end of the pitch and are definitely the League One entertainers; Coventry's two "home" games at Sixfields have yielded 17 goals, with a 5-4 win over Bristol City and a 4-4 draw with Preston sandwiching an emphatic 4-0 victory at Carlisle. Steven Pressley (pictured) and his men have not felt sorry for themselves and having already clawed back seven points of the 10 they were deducted, I wouldn't back against them wiping the slate clean at Shrewsbury this weekend. Messrs Clarke, Daniels, Wilson and Moussa are playing very well and with the giant Mathieu Manset and the experienced Carl Baker and Gary McSheffrey on their books, I suggest brighter times lie ahead.
WIDE OF THE MARK
What do you think of Bolton's promotion prospects this season? Do you think they need more signings to make this goal more possible? bwfcleg3nd
BEAGS SAYS: Before a ball was kicked this season, I really fancied Bolton's chances of promotion, but since then they have lost Stuart Holden, with the American joining Mark Davies as a long-term absentee due to injury, and Chris Eagles (pictured); the lack of those players and a paucity of width, coupled with a lack of solidity as a defensive unit will have people questioning Wanderers. Dougie Freedman did a great job to breathe life into Bolton's season last year and the club only missed out on a play-off place to Leicester on the final day, but any squad would miss the aforementioned match winners and I will watch with interest to see if Freedman recruits someone for the wide areas. Eagles, when fit, and Robert Hall could fill that void, though, and provide crosses and chances for Wanderers' centre-forwards. It is still early days but Dougie has things to address or the Trotters could find themselves playing catch up.
A MILLERS TALE
How big a club do you consider Rotherham to be? Liam
BEAGS SAYS: How do you measure the size or stature of a club, Liam? Is it history, is it fan-base or is it silverware? Some 7,000 fans saw the 2-2 draw with Shrewsbury at the weekend, which is not a massive crowd but a decent percentage of the Rotherham populous. Promotion and a lovely new stadium are steps in the right direction if managed correctly, as while clubs need ambition that cannot be at the expense of a long-term future. Chairman Tony Stewart and manager Steve Evans (pictured) will look at Yeovil, who have a small budget but have just entered the Championship and given every club hope. Your team, Liam, is the biggest one in Rotherham and needs all Millers fans who are parents to make sure their children attend games and don't allow their allegiance to go to bigger clubs in the Premier League as without that, teams like yours lose generations of supporters and cannot grow. I suppose, after much dalliance, I am trying to say the Millers are not a massive club by any stretch of the imagination, but that's not to say they are any less important than the 91 teams they share their league status with.
THINGS LOOKING BRIGHT?
Do you think Brighton will be serious contenders for the play-offs this year? The squad is pretty much the same as the one that lost in last year's play-off semi-final after all. Sam Theodoridi
BEAGS SAYS: There will certainly be more confidence in the dressing room after the Seagulls beat Burnley at the Amex Stadium on Saturday and two wins from two, after defeats in the opening two games, will relieve the potential pressure on new manager Oscar Garcia. Stephen Ward and Keith Andrews have been signed on loan but Leonardo Ulloa (pictured) was the difference against the Clarets, scoring one goal and creating the other, and if Brighton can keep the big man fit they will be in the play-off shake-up. Matt Upson looks to have put his injury worries behind him, too, marshalling the defence with partner Gordon Greer, and with Albion not scoring many goals, the importance of these two will grow as the season progresses.
WRIGHT WAY UP?
Do you think Oxford's Jake Wright could play at a higher level? Laurence
BEAGS SAYS: Wright is a very good player and leader who has put in some excellent displays and, after adding some consistency into his game, become one of the best centre-backs in League Two. Can he produce that level of performance week in, week out against the extra pace and movement of the frontmen in League One is a question that can only be answered when we see it. If he can keep his focus at Oxford he could be there next season. Congratulations on your side's great start, Laurence.
HOLDING COURT
Do you think holding midfielders are often overused in football today? Pete
BEAGS SAYS: There has, over the last few seasons, been the emergence of the holding midfield player, who is usually deployed in front of the two centre-halves as protection against counter attacks and teams threading balls through to the feet of their strikers. Generally tall, athletic and disciplined enough to sacrifice the urge to go forward, these players' prominence seemed to coincide with modern day full-backs getting forward at every opportunity. As time as gone on, though, these guys have improved to such a degree that they can turn defence into attack with a great range of passing, sometimes short and incisive, other times long and defence-splitting. Xabi Alonso and Michael Carrick are two players with those skills, but the best example in the Championship is Brighton's Liam Bridcutt (pictured), who is an outstanding athlete and a real team player. However, I think that all midfielders should be able to read the game, pass the ball, tackle, get forward and get back. All the best ones do, it just depends on what system your manager prefers and what role he expects you to play in that system.