Coventry keen to copy Rotherham
Coventry are closing in on exclusivity on two potential sites for a new stadium, with the League One club hoping to emulate Rotherham United.
Last Updated: 12/07/13 10:16am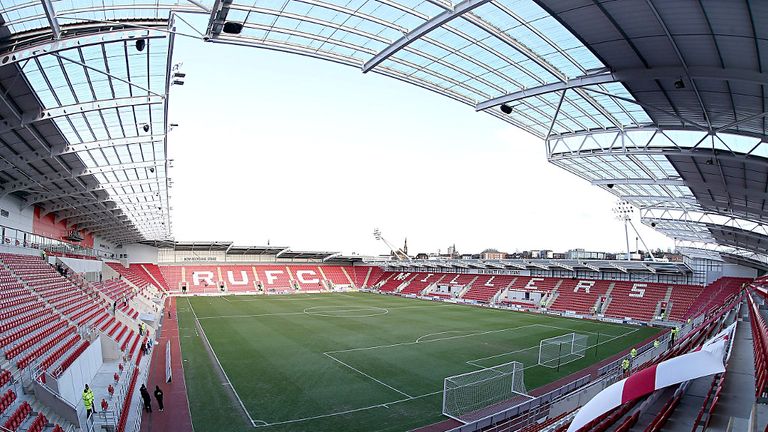 Coventry are closing in on exclusivity on two potential sites for a new stadium, with the League One club hoping to emulate Rotherham United.
Chief executive Tim Fisher in May revealed plans to move into a new stadium claiming City had been given no choice but to leave the Ricoh Arena as their lengthy and bitter rent row with stadium management company Arena Coventry Limited (ACL) rumbles on.
Earlier this week, the Football League reluctantly approved the Sky Blues' application to play their home games at Northampton's Sixfields Stadium for an initial period of three seasons while their new ground is being built, although it could stretch to as many as five.
The groundshare has been met with anger from the vast majority of City supporters, but the League One club are planning for a brighter long-term future away from the Ricoh - and Fisher is using Rotherham's recently-opened New York Stadium as the blueprint for Coventry's new home.
Fisher said: "We've got a small number of sites which we are negotiating with, we are looking to get into exclusivity. Within the next week for sure for one, and potentially the second within a week as well.
"It will be in the Coventry area, we've got a number of sites both in the north and all around the Coventry boundary. They are very, very close.
"Ideally I'd like to get exclusivity on two, simply because it gives you the right to exclusive negotiation to close them and, frankly, you don't go into the final furlong of a horse race (with one), you want to get two lined up.
"Then we'll have the whole development of the scheme, the masterplan and all the commissioning that will be required.
"On Friday, we've got the beauty parade of architects, we've got the highways consultant - we are pushing like crazy."
Fisher, who plans to bring Coventry fans on board for full consultation, added: "The model is Rotherham's New York Stadium, it's a great stadium. It's modular so it grows as the club grows.
"Attendance? Around 18,000, and I will argue that 18,000 is enough. Then if things go well over time, it grows.
"Also, all around the bottom of the site, we want to add a scheme and that is going to be where the real value is in this because there will be a mix of commercial, residential - again, depending on the final site we go with.
"And this is why I really like Rotherham United's model because it's set up so they're building a hotel, it's by the river Rother where it's designated as regeneration so built into the bottom of the stadium are retail units, cafes, you name it, it's brilliant."
The start of the new League One season is just three weeks away, with Coventry's first 'home' fixture at Sixfields then due to take place on Sunday August 11 against Bristol City.
And despite all the off-field distractions, Sky Blues manager Steven Pressley has been impressed with the attitude of his players during pre-season training.
"I know there's a lot of negativity surrounding the football club at this moment in time but in terms of my players and the way they're going about things, the professionalism they're showing is first class," the Scot said.
"Everybody's aware of it, it's far from the ideal situation just now but as a football department we must focus on doing all we can and that is remaining very professional during the course of pre-season, preparing in the correct manner and creating the right spirit and environment for players to prosper.
"That's all we can do, everything else is beyond our control."