Past and present
Current Rotherham star Kari Arnason and 1961 cup final hero Keith Bambridge discuss football's changes
By Peter Fraser - Follow me on Twitter @SkySportsPeteF
Last Updated: 28/08/13 9:22am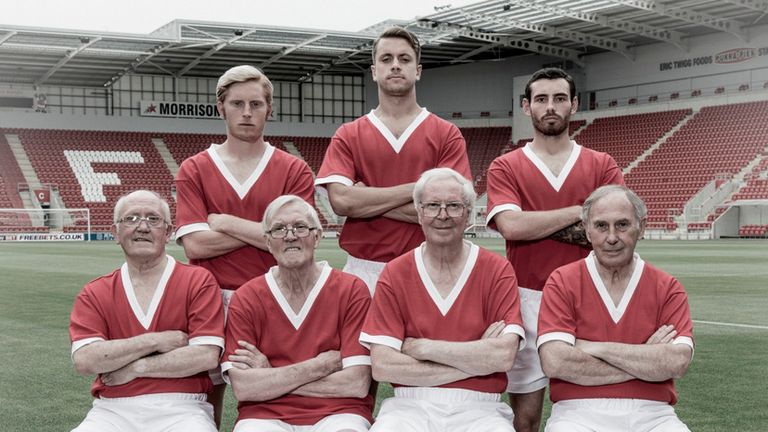 As Aston Villa and Rotherham United prepare for Wednesday's second round rematch of the inaugural League Cup final, how has football changed since that first showdown in 1961?
Sky Sports - in association with Capital One, the credit card company and sponsors of the League Cup - asked one current Rotherham player, Swedish-born Iceland international Kari Arnason, and one of the cup final heroes who 52 years ago narrowly lost to Villa over two legs, Keith Bambridge.
What is/was the difference in strength of squads between Rotherham and Villa?
Kari Arnason: "Compared to a Premier League team, Rotherham are obviously tiny. But we are working on that and, hopefully, we can grow and get promotion to the Championship. They [Villa] are better players but I believe anyone can beat anyone on the day. If we can produce a decent team performance, we can always nick a result."
Keith Bambridge: "At the time we were playing, I hope this does not sound egotistical, we feared no-one. There was no trepidation. During our cup run, we had beaten Leicester City and Bolton Wanderers. We were quite useful. We were fortunate that we had Bill Myerscough, who played for Villa in the 1957 FA Cup final. He thought we were a better team than Villa."
How do you think football has changed since the 1960s?
KA: "We have been trying the kit out and it was long small shorts and so on, so it was different. The ball was also not really round so that was different. But football is football."

KB: "Obviously the game is a lot quicker now and there is more attention paid to diets and ball skills. In our era, you were more aware of the prestige of playing for the club. Not that the modern players are not but I just think it is a little bit sad that the general man in the town cannot identify with a Premier League footballer who is earning £150,000-a-week.
Can you give us an insight into life as a footballer? What is/was involved in daily life?
KA: "It depends how many games we have in a week. If we have two games, we will only train about two or three times a week. But if there is one game, we will squeeze in four or five sessions. We do not have too strict guidelines on our diet. We are obviously told not to eat rubbish."
KB: "My life was a bit different, because I was a part-time player. I was also a draughtsman but had the opportunity of training two or three times a week. But I also played in table tennis leagues. You virtually worked all week. I got the chance to have time off work to train but had to make the time up later."
Do you remember the day when you first signed a professional contract?
KA: "I was at university in the USA when I first signed for a Swedish club. I do not remember much but I quit my studies and flew directly over. That was a long time ago and I was hoping to get into the Premier League. I have realised that is probably not going to happen now since I am 30 years old. But everyone wants to play in the Premier League."
KB: "Although I was a part-time player, I signed a professional contract in February, 1955. I could not go out to celebrate, because I was playing in a table tennis match at Swinton. Rotherham's first-team coach came to ask me to sign, because apparently other clubs had been making enquiries."
What is/was your relationship like with the media in football?
KA: "We do not have any media training. We just do it off the cuff, really. But we know we cannot swear and things like that!"

KB: "It was fine, because we were quite close to the media. A lot of our travel was by bus and we did not have motorways in those days. The reporters would travel with us so there was the opportunity to chat."

Kari Arnason and Keith Bambridge were speaking on behalf of Capital One, the credit card company and sponsors of the League Cup, who are offering fans who attended the 1961 Final the chance to attend Wednesday's match for free. For more information visit facebook.com/CapitalOneUK