Millers time
Rotherham's Alex Revell talks rediscovering the club's identity and pushing for another promotion.
Last Updated: 11/03/14 7:15pm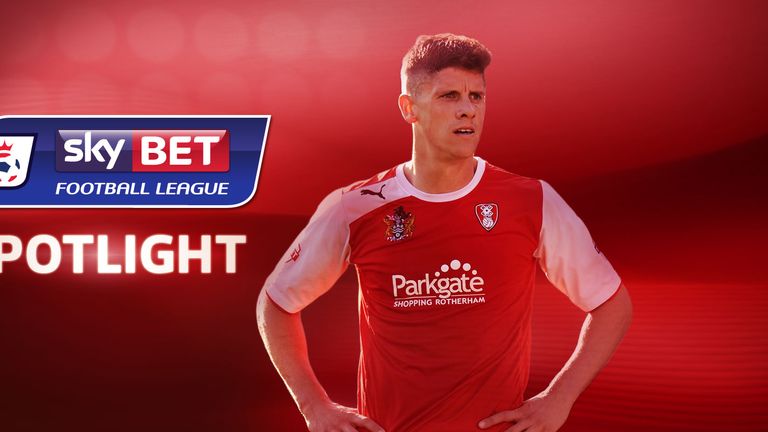 The 2013/14 campaign is now entering the final straight, with divisions beginning to take shape.
Here at Sky Sports, we will look to take you to the very heart of the Sky Bet Football League over the coming months, with our Spotlight features intended to give you a greater insight into the clubs and players that keep us on the edge of our seats.
We hope to bring you the views and thoughts of a representative from each of the 72 teams over the course of the season, with those involved asked to give their take on the division they compete in, the club that pays their wages and those we should all be keeping an eye on.
Rotherham's Alex Revell is next into the hot-seat, with the Millers striker taking time out to discuss rediscovering the club's identity and pushing for another promotion with Chris Burton.
Obviously you aren't going to be taking anything for granted, but it's looking like a top-six finish is pretty secure now isn't it - you've got a 13-point cushion?
We've done well to get to where we are at the minute. But we're still new to this league so although we've done well up to this point, we have got some difficult games coming up. Out of the games left, we have to win so many that we make sure we get into the play-offs. Until then, we just have to keep doing what we've been doing. We have had a couple of good results recently and we were disappointed with a draw at Colchester, although from the game it is probably a good point away from home. We're still acclimatising to the league so we've just got to keep doing what we've been doing and hopefully the point difference we have got at the minute can see us there at the end of the season.
So it's all about wrapping up top six, because you're only nine points off second with a game in hand - you could be chasing that couldn't you?
Of course. I think that adds to the disappointment of not getting a win away at Colchester, although we probably didn't deserve to. If we had won that, we would have gone six points behind the top two with 12 games left and physiologically that might have caused the people above us to look over their shoulder. But we've done magnificently well to get to where we are now and one thing we aren't going to do is let the hard work we've done to get there go to waste now. We've got to try and get into the top two if we can. If we can carry on playing the way we have been and keep winning and the top teams keep winning, then you can say that you did all you could. As long as we concentrate on what we're doing, we'll see where we end up at the end of the season.
It's a great situation to be in isn't it, to know that things could be even better - you've had 11 draws so far?
Yeah. People didn't know what to expect from us this year and we know that we have got a very good squad, it was just about taking it into games. We did at the start of the season, then we hit a sticky patch - around Christmas time we were winning games and then suddenly losing two on the bounce. It was our home form that was letting us down, but we've ironed out the problems and stuck together as a group. We've scored a few last-minute winners this year that have got us some massive points at some tough places. We've just got to keep doing what we've been doing, keep believing in the way we have been playing. We're at that final push now at the end of the season and you can see the light at the end of the tunnel. To be where we are now is magnificent and we're not going to let that hard work go to waste. The top two might slip up at some point, and if they do then we have to keep winning. You never know.
You only have to look at the sides around you to keep yourselves grounded don't you, you've done remarkably well to be mixing it with the likes of Wolves, Preston, Brentford and Peterborough?
Even Leyton Orient, they have been in this league now for a long time. They are accustomed to the way you've got to play in League One. Obviously there are big teams there, but you look at them and it's no surprise. I know everyone expected their bubble to have burst by now but it doesn't surprise me that they are where they are - the way the gaffer is there, he's got them playing well-organised and not conceding goals and has two players up front who can get goals. We have got to look around us and be really happy with how well we have done. But, with the squad that we've got, we've also got to look forward. We came up last year and it's brilliant to be where we are, but the club deserves to be in another league because of what's happened with the ground and everything that the chairman has done. It's a massive achievement to have got to where we are now but with what the chairman is building and what the lads are achieving, we're hopeful that we can get up into the next level of football.
I was going to say, the last couple of years have been a real kick forward for the club haven't they - with the stadium and the squad building?
Yeah. Coming from Don Valley, it was the best that the chairman could do at the time. He managed to get the club into Don Valley and promised the dream of moving to this amazing stadium. He's delivered it. What's also happened is that the lads said we wanted to get promoted, and the lads delivered that. This year it was sort of, 'Where do we go now?' It's a new league and we didn't know how we were going to get on at all, but the lads have taken it in their stride and we are where we are. Now it's about looking forward to the next few games and trying to cement our place. If we can get a few wins in the next few weeks, you know you've cemented your place in the play-offs and then the best thing to do is enjoy the end of the season and try to push on.
You were there during that Don Valley period, does it feel in some ways as though the club has got its identity back - you've got a home and it feels like a club again?
Massively. Don Valley, the fans being so far away from the ground, it wasn't in Rotherham, but they tried their best. Speaking to people before I came, I think it was a massive factor in not getting promotion before that - getting to the play-offs but not having your supporters to be able to push you. It helps when you are 1-0 down to have your fans cheering you on - it's obviously a massive advantage and I think at Don Valley that was lost a bit. Not because through any fault of the fans, just through the way the ground was and the stadium was arranged. It was very difficult and I think it was a factor in not getting promoted. Then, coming into the new stadium, for the fans and everyone in Rotherham it was a massive, massive boost. To have a football team not only back in your home town, but to be doing what the lads are doing at the moment, to be giving back to what the chairman has done, is amazing. We've seen some rewards, just going out in the community now you see so many more Rotherham shirts being back where we are. Obviously the results this year have helped, beating Sheffield Wednesday and Sheffield United in the first couple of games massively helped us to get that identity in this league as well. It's a massive achievement for the chairman to get us back where we are, but he wants to get as high as he can. We've got a group of lads who want to achieve great things and hopefully we'll see that happen.
Being up there again this season, there aren't too many dull seasons at Rotherham are there - it tends to be up or down?
It does. You look at administration, we have got people like Paul Warne on the coaching staff who have seen it all - the administration, the old Millmoor, and I think the fans remember those days too. Certainly in the last few years there have been a lot of rollercoaster rides. I think last year we were favourites to get promoted and we got into second place on the last day of the season. Probably we could have made it a lot easier for ourselves, but we managed to achieve it. The atmosphere last year after getting promoted, to get 15,000 back in the stadium, full capacity, for the chairman was a proud day and for everyone at the club. We're now setting records, beating Notts County 6-0 at home was another record for the new stadium. Hopefully for the people that are coming to watch, they are seeing an exciting team that is still being built but one that wants to play here, wants to achieve and is excited by what's happening at the minute.
Whatever happens this season there is going to be work to be done in the summer isn't there, you've got quite a few loanees in?
Yeah. The manager wants to build the best side he can and we've had a lot of loan boys come in in the last couple of years and they've all added something to the team. But he has also got a good group of lads who are permanent signings here who have been here for last year's promotion. I think from the Don Valley days there are only three of us left - me, (Mark) Bradley and Prings (Ben Pringle). That's how quickly football changes. The new manager came in, two-and-a-bit years ago now, and he changed it. He wanted to go his way and looking at the success of what has happened, you can't say anything else but praise. We've achieved great things. The loanees have made a big difference and as you go up the leagues, getting Premier League players coming to our club is great for the fans because it proves what an exciting time it is here that people want to come here and achieve things. The summer, whatever happens, I imagine they will want to build again and that's a sign of the times at this football club.
Steve Evans has done a great job hasn't he because he took a gamble in leaving behind a good thing at Crawley, something he helped build, to buy into the potential at Rotherham?
He got Crawley promoted that year, without doubt, and he came to us when we had a slight change of getting into the play-offs but I think the season had faded out a little bit. He had a fresh canvas to come in and organise for last year. He has done a great job, promotion last year and being where we are, signing some of the players that he has brought in. All of the staff have done great because we've proved that we can compete at this level. There are some big teams in this league and we've got some great results this year against the big sides. He's a motivator and he knows the way he wants to do things, the way he wants to play. If you don't want to do it, you aren't going to succeed at this football club. We all know what our jobs are and we all know what this football club means to him. He has put that across and, from what he's achieved, he's done very well.
On a personal level, are you happy with how things have gone but eager to get into double figures as quickly as possible?
I want to get double figures. I've got nine at the minute and I want to get into double figures in general goals. I'm really pleased personally with the way that I've been playing and the way that I have been helping the team out. Recently goals have not been easy to come by, but it's been pleasing for me. To be involved in another promotion-chasing season is a dream. This is the longest I have been at a football club, I have travelled around everywhere, so it's nice to feel settled here and to be reaping the rewards of that.
So you're more than happy where you are because there was interest from Coventry in January wasn't there?
It's always nice to be linked with teams, especially the big club that came in. You can never say what is going to happen in football because the manager may want to change things but, for me personally at this football club, it's a good time. I know what the manager wants from me, I try my best every week and that's all you can ask for. If my best is good enough to stay in the team for the next week, that's good for me. I'm happy so far and long may that continue.
Alex Revell was talking to Sky Sports on behalf of Sky Bet, the Title Sponsor of The Football League.
For a wide range of match odds and specials on all Football League matches and a £5 free bet every week, go to skybet.com.