League One play-off final: Rotherham boss Steve Evans ecstatic after promotion
Steve Evans hailed an 'incredible' achievement after Rotherham beat Leyton Orient on penalties to earn promotion.
Last Updated: 26/05/14 12:51pm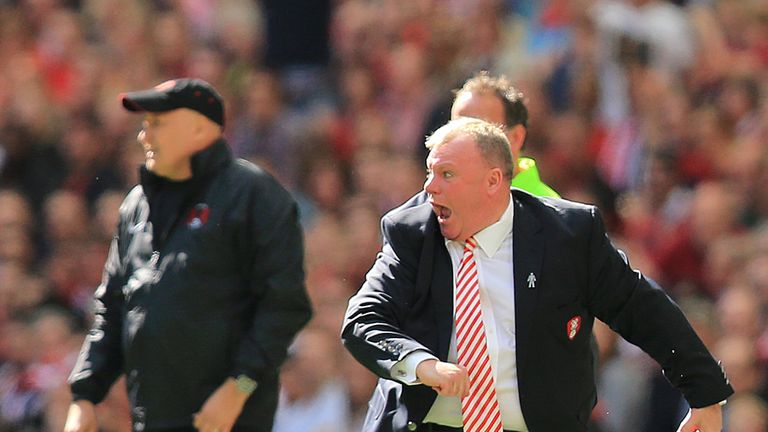 Rotherham trailed 2-0 at half-time in the Sky Bet League One play-off final but they fought back to draw 2-2 thanks to a brace of goals from Alex Revell.
Adam Collin then saved two penalties in the shoot-out to secure Rotherham's place in the second tier and leave manager Evans overjoyed.
"If somebody phones me tonight and says I've won the lottery, this is better," he told Sky Sports.
"We were dead and buried at half-time and I had to rally them, but these guys rallied like they have done since the start of the season.
"It is incredible. We had a belief that we've had since the start of the season.
"We know we're not the world's best. We couldn't catch the champions (Wolves), who were deserved champions, and we couldn't catch Brentford, who deserved to go up, but we've beaten a magnificent side in Leyton Orient.
"At half-time we were hanging on and I only wanted it to be two at half-time because I knew if it was two I could revive them, and we did."
Evans reserved special praise for goalkeeper Collin, who joined the club last summer, and Revell, whose second goal was a fantastic strike from distance.
Joined on the pitch by the duo, Evans said: "He's got the goal of the season and he (Collin) has been a magnificent signing."
Collin played down his part in Rotherham's success and preferred to pay tribute to man-of-the-match Revell.
The keeper said: "I've done my bit in the shoot-out but Alex is the hero with two great goals.
"It's a great feeling and I can't put it into words really. We are in the Championship and I am over the moon."
Revell could not contain his delight after inspiring Rotherham to promotion.
He said: "It is a just a dream come true. To play out here and get two goals, in front of this crowd, is unbelievable.
"We have worked so hard to get where we are and we're in the championship. What an amazing feeling."